Peter Vanhoutte, international mediator in the negotiations for overcoming of the political crisis in the Republic of Macedonia, has in the past three days invited representatives of civil society organizations, international organizations and international experts on elections and the media.
We attended an interesting, and equally sobering presentation on active voter registration by Alan Wall from the International Foundation for Electoral Systems on Monday, September 21. At the meeting yesterday, September 22, Richard Lappin, an expert from the OSCE / ODIHR, spoke on the ODIHR's recommendations for conducting the elections. Richard Bailey, a journalist from BBC, spoke on the principles and standards under which the British public service operates, today, September 23.
Mediator Vanhoutte opened today's meeting with a short, however, deep and emotional speech. He said: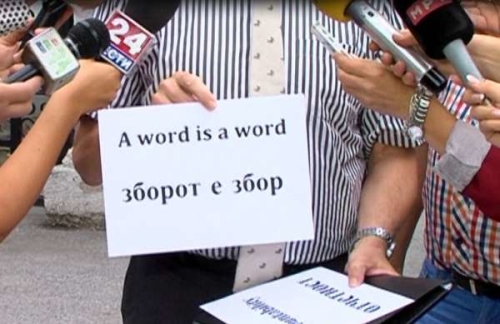 "Politicians, representatives of the media, members of the civil society, you are at the heart of democracy. You bear the responsibility for it, to make it a true democracy. A democracy in which citizens respect each other and where they are allowed to have a different opinion.
Tonight, when you all return home, you should all be able to give your beloved ones a hug, to look into the eyes of your children and grandchildren and say: "Today, I followed my conscience, I did not succumb to pressure, I did not accept any bribes, I helped to build your future, a future where you do not have to leave the country to find a decent job, a future where people respect each other, a country where people talk and listen to each other, regardless of their background, in short, a country adhering to European values"."
These three days were yet another opportunity for the civil society to get closer to the negotiation process and offer its expertise and standpoints, in order to influence the decisions that must be taken at the negotiations. CIVIL – Center for Freedom continues to support the political process and the efforts made by the international and domestic experts and joins this call for consciousness. At the same time, CIVIL continues to work on the field and, in communication with the citizens, will continue with its constructive contribution to the political process that is crucial for the future of Macedonia.