CARAVAN Freedom roared in Kumanovo
1351 Views
12/01/17
in Culture
Comments Off on Freedom roared in Kumanovo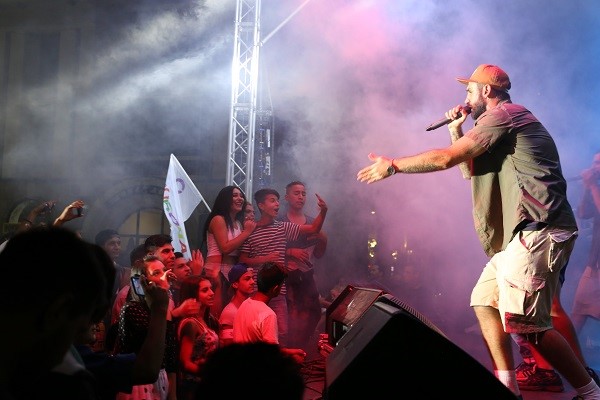 "Good evening Kumanovo! Having so many people gather from different national, religious, and gender backgrounds in one place to enjoy the moment and the music – now that is freedom!" – shouted out Toni Zen,  the king of rap, as his colleagues from Sutka Roma Rap introduced him, started off his energetic performance, while the atmosphere on the square of Kumanovo was a confirmation to his words.
The numerous audience danced and sang in the spirit of freedom that could be felt everywhere. The familiar melody of the music of Shutka Roma Rap, Blla Blla Blla…, the acoustic performance of Pece Superhiks, accompanied by Petrit Saracini and the messages for freedom they sent out through their music, brought together the public of all generations, which supported all the participants from the beginning to the end of the event with applauses and their hands held up.
The Lyrics of freedom that were recited in several different languages on stage by Elena Prendzova, Bjondina Serifi, Marija Jovanovska, Arsim Jonuzi and Xhabir Deralla created real outbursts of emotions. The emotional and energetic performance of Deralla received thunderous applause followed by a hundred of voices shouting SLOBODA! LIRI! FREEDOM!
The messages of freedom were also presented on the canvases of the art workshop that were spread out in front of the big stage, where in addition to academic painter Miroslav Stojanovik was also artist Magdalena Sazdovska painting along with many citizens and the youngest, who had wished to transform their feelings into art.
Last night's multimedia spectacle of the Freedom Caravan in Kumanovo turned into a testimony and confirmation of the aspiration for freedom, of the beauty of art and its power to bring together all the differences in one place with one single goal – freedom.  The people from Kumanovo, like so many times before, proved that they like and appreciate art and freedom and that they enjoy them.
Маја Ivanovska