MEMORY Sadikario: The Holocaust is not just a statistic!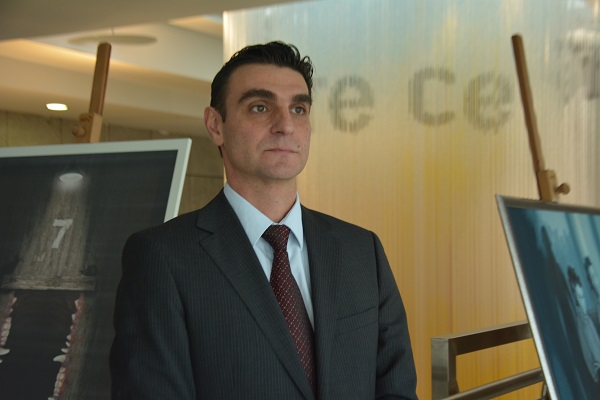 The Executive Director of the Holocaust Memorial Center, Goran Sadikario, at the Conference "Fight against antisemitism and distortion of the Holocaust" held on the occasion of International Holocaust Remembrance Day, spoke about the insufficient attention paid to the fight against antisemitism in Macedonia.
"When we started developing this institution, we decided that the main goal of the institution should not be for people to come, to visit the exhibition and to leave. The main goal is to create educational activities and programs for children, how to deal nowadays with hatred, discrimination, xenophobia, antisemitism, and of course, denial of the Holocaust. Because the Holocaust is not a statistic", said Sadikario.
He highlighted many examples from the everyday life in Macedonia that oppose the efforts for eradication of antisemitism, such as graffiti on public places, sacrilege of tombs and monuments dedicated to the Jewish victims, and even involving children from early age in such activities.
"In these eight years since we have opened this institution and the first exhibition, I have come across many graffiti that describe Macedonia's xenophobic society. In front of our institution alone, on the stands you can buy magnets with Hitler's and Mussolini's image, without any problem at all. And when I addressed the person selling them, he said that they were among the best-selling items! The Jewish cemeteries in Bitola, the oldest tombs in the Balkans, have been demolished and have had swastikas drawn on them numberless times. On April 1, April Fool's Day, you have James Bond and Hitler sitting together, seventh-graders, from the same school where my son goes to. They don't know what they are doing, but that's why their parents and teachers know", said Sadikario.
He is decisive that we as a society, but also the education system, do not work enough to prevent such behavior in our neighborhood, but also in the country.
Translation and text editing: Маја Ivanovska
Camera: Dehran Muratov
Editing: Аrian Mehmeti
Photography: Аngela Petrovska