DAILY BRIEF February 8: Announcment of presidential elections, SCPC with a new composition, CIVIL on the ground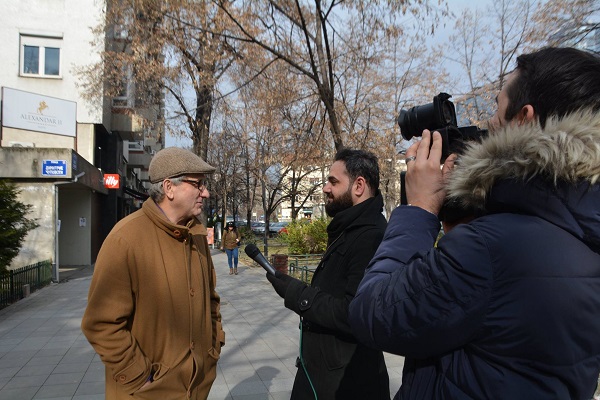 Presidential elections
From the Cabinet of the President of the Assembly of the Republic of Macedonia, Talat Xhaferi, they have announced that he, according to the legal obligations, today (8/2/2019) at 6.00 pm, will sign the decision for announcing the presidential elections. The signing will be in the Cabinet of the President of Parliament. Immediately after the signing of the decision, the President of Parliament, Talat Xhaferi, will give a statement for the media.
Anticorruption with a new composition
The Parliament has agreed to the proposed list of candidates for president and members of the State Commission for Prevention of Corruption, upon the submitted proposal of the Commission on Elections and Appointment Issues.
With 65 votes "for", 10 abstentions and none against, Biljana Ivanovska is the new president of the SCPC, with the following members: Vladimir Georgiev, Sofka Pejovska Dojcinovska, Katica Nikolovska, Nuri Bajrami, Biljana Ivanovska, Goran Trpenoski and Shemshi Salai.
Previously, the MPs from DUI and VMRO-DPMNE reacted to the manner of scoring in the election of members, and because of this VMRO-DPMNE were restrained. The remarks were in regards to the manner of scoring the candidates.
Greece to vote on Macedonia's NATO Accession Protocol
The Greek Parliament today will vote on the Protocol on the Accession of Macedonia in NATO, after it received a green light yesterday from the Committee on Foreign Policy and Defense with a majority vote.
In the Greek Parliament, 151 votes are needed for the protocol to pass. Expectations are that Macedonia's accession to NATO will be supported, following the support to the Prespa Agreement.
CIVIL – activities
The Initiative #IDemandanAnswer of CIVIL – Center for Freedom continues also on the street. CIVIL's team set up a stand today at 12 noon, near the Memorial Park of the Fallen Fighters in Skopje (near the library Ili-Ili). At CIVIL's stand, citizens had the opportunity to ask questions and to demand answers from public figures, politicians, institutions in regards to all the problems that are troubling them.
The Initiative #IDemandanAnswer was promoted for the first time on the streets of Skopje in the second half of 2016, as part of the Civic Lenses project.
Communities against violent extremism
CIVIL – Center for Freedom will hold a working meeting "Communities against violent extremism" in the Municipality of Tetovo on February 11 (Monday), from 1.00 – 3.00 pm.
At the meeting, CIVIL's representatives will present the project to the participants, which has the goal to contribute to strengthening the resistance of the local communities against violent extremism, by forming working groups in the communities, civic education and strengthening public awareness.
The Mayor of Tetovo, Teuta Arifi, is invited to the working meeting, as well as representatives of the local government and of institutions, the police, schools and civil society organizations.
The working meeting will begin with the signing of a Memorandum of cooperation between CIVIL and the Municipality of Tetovo in the sphere of preventing violent extremism, radicalization and terrorism.
D. Tahiri
Photography: А. Petrovska
Translation: N.Cvetkovska