CIVIL The story about the Civic Charter so far…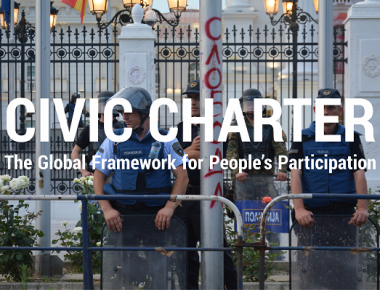 The Civic Charter is a global document regarding the participation of citizens in the decision-making processes that was launched in 2016. CIVIL – Center for Freedom is one of the first 50 world organizations signatories of the Charter. The International Civil Society Centre recently launched a video for the Civic Charter, as a basis for a powerful and growing movement of citizens at the global level.
In the video you can learn more about how you can get involved in the community as an activist for civil rights.
"The Civic Charter – how will I benefit?" is the campaign in Macedonia. Thanks to the work of the human rights activists (or civil-ians, as well call them) in CIVIL – Center for Freedom, in Macedonia, the Civic Charter has become known in cities throughout the country. The building of a campaign that inspired hundreds of Macedonians to sign the Civic Charter in 2017.
CIVIL as part of this community will carry out a regional campaign this year for the defense of civil liberties in the Balkans. Through entertaining and provocative activism that has the purpose of raising public awareness, CIVIL will organize a workshop for the defense of the civic space for civil society organizations in Macedonia and the neighboring countries. At the end, CIVIL will hold a conference with the engagement of business and government representatives from the region.
M.I.