The Prime Minister of the Republic of North Macedonia, Dimitar Kovacevski, today received a delegation of the human rights organization CIVIL, which was led by the President of the organization, is written in the Government statement.
At the meeting, government programs and cooperation with civil society organizations in strengthening civic values and capacities in the country were discussed, the fight against disinformation, transparency of the institutions, as well as the implementation of the "National strategy for developing the concept for one society and interculturalism in the Republic of North Macedonia".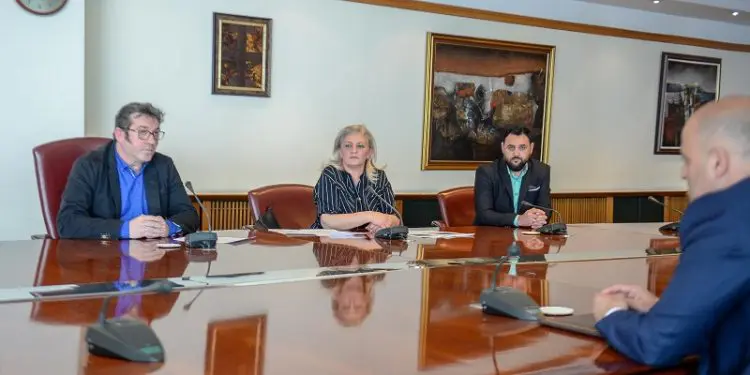 Prime Minister Kovacevski pointed out at the meeting that in the past five years, the Government has shown what democracy, personal freedom and the right to opinion, respect, tolerance and non-discrimination mean and that with the government strategy for one society, the fundamental determinants have been identified for a community in which every citizen, without exception, will feel like an equal member of society, which is both fair and just to all.
With the change of government in 2017, outlined Kovacevski, both for the media and the citizens, there was a turning point in the media on several grounds. The repression, dictating and control stopped, while freedom of thought and of expression, vocal criticism and competition of opinions, ideas and arguments dominate on the public scene.
It was pointed out at the meeting that through maximum respect for the principles of inclusiveness, the Government in close and productive cooperation with the civil and business sector remains maximally dedicated to the implementation of the principles of open government.
At the meeting, Prime Minister Kovacevski outlined as especially important the activity of CIVIL MEDIA, as part of the organization for human rights CIVIL, in exposing disinformation.
In regards to the current campaign of the opposition for blockades and boycotting of the institutions, it was stressed at the meeting that it is irresponsible behavior that has the only purpose to generate additional crises in order to cause early elections.
Consent was expressed at the meeting in that it is especially important for the process of reforms of the electoral process to be completed, and that at this moment, early elections would cause additional postponement of other processes that are particularly important for the citizens of the state.
Translation: N. Cvetkovska