During infamous strike on civilian train station in Kramatorsk, a Russian missile had taken off both legs of 11-year-old Yana. Her mother, Nataliya, also lost a lower extremity in the attack, while her brother miraculously avoided the injuries, reports TCH.
Now, the family is safe. During the last few weeks, they have received treatment at a pediatric hospital in Lviv. Now, Yaroslav, 11 years old, who managed to miraculously avoid the injuries, is looking after his mom and twin sister crippled by the Russian missile. The Lviv First Medical Association has shared more details of this heart-breaking story.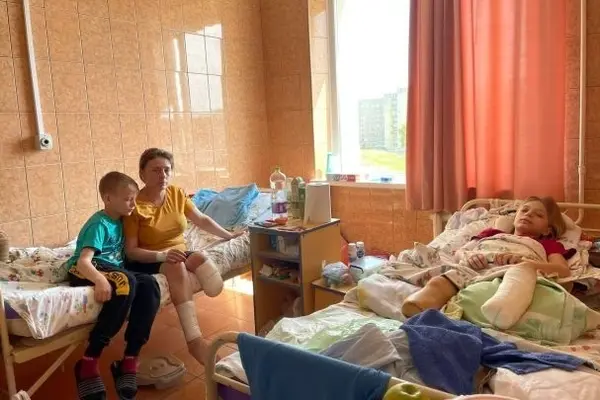 "This young boy matured and become grownup exactly the same moment, as the Russian missile hit a train station in Kramatorsk. His mother and twin sister, who stayed at the platform, were both crippled by the explosion: the woman had lost one of her legs, while the girl had lost both lower extremities. Now, 11-year-old Yaroslav is looking after his family. He even does the groceries at the local store next to the hospital", the Association's message reads.
The family lived in Novhorodskem, Donetsk Region. The biological father of Natalia's children died few years ago, while their step-father joined the military after the Russian invasion. In the early April, Natalia decided to evacuate in order to rescue the twins from enemy shells and bullets. The family packed quickly and went to Kramatorsk train station.
While they were waiting for a train, Yana asked her mother to grab some tea offered by local volunteers at the platform. Yaroslav stayed inside the station to look after the bags. As soon as Natalia and her daughter stepped outside, the train station was rocked by explosion.
"Natalia is still blaming herself for that tea break. When she opened her eyes after explosion, everything was covered in blood. She saw her daughter hunched up on the ground with both of her legs severed. Natalia tried to rush to her child, but couldn't get up. When she looked down, she realized that her leg is gone", the medics recalled.
Badly injured and overwhelmed by terror, the family was brought to Lviv by a special evacuation train. Now, Natalia and her children are smiling, because they are finally safe. Soo, the family will travel to USA to get state-of-art artificial limbs and undergo rehabilitation.