HOLOCAUST Mladenovski: We need cooperation for better success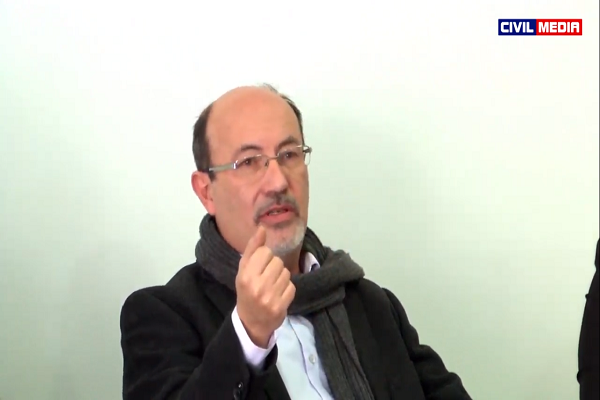 Mire Mladenovski, President of EUROCLIO, at the conference "Fight against antisemitism and the experiences of the Holocaust" held on the occasion of the International Holocaust Remembrance Day at the Holocaust Memorial Center, outlined that the phenomenon of the term antisemitism is not new, but that now it is appearing again and is more visible thanks to the new way of communicating and the social networks.
Mladenovski says that education has a prevention function in every country, and that his position is that there shouldn't be any tolerance for hate speech, propagandas and everything that can destroy the society in which we live in.
In regards to the examples that were also pointed out by the Director of the Holocaust Memorial Center, Goran Sadikario, that young students disguised themselves as Hitler on April 1, Mladenovski said that the teachers should start from themselves first, and that he is not sure that in our society, or in the region, this is done.
Mladenovski pointed out an example of students from Belgrade, where half of the students in one class had been disguised as Nazis, while the other half as Jews, and that they had gotten so absorbed in the game that they had continued playing it even after the classes ended.
"The educational systems are very slow, they do not respond very efficiently and cannot recognize these situations and react after something happens, when it is too late to react", adds Mladenovski.
"In Macedonia and in the region, the government institutions see the civil society sector as a competition, and not as partners, which is sad, because together we can achieve more", says Mladenovski.
Mladenovski says that in Macedonia we divide education in two parts: education and upbringing.
"Students here don't learn, they just remember. They need to develop skills for life. Moral skills, mutual understanding, critical thinking, dialogue and so forth…However, unfortunately, we do not have this in our system. There haven't been any changes in the system since I was a child, until now", adds Mladenovski.
Angela Petrovska
Camera Dehran Muratov
Editing: Аrian Mehmeti
Translation: N. Cvetkovska