ISW published a special edition campaign assessment. This report discusses Russia's religious repressions throughout occupied Ukraine since the start of the Russian full-scale invasion of Ukraine on February 24, 2022.
Russia continues to weaponize religion in an effort to discredit Ukraine in the international arena and is using information operations about religion to advance military objectives despite itself committing gross violations of religious freedom in occupied Ukraine. Russia may use the upcoming Orthodox Easter holiday on April 16 in an effort to delay Ukrainian counteroffensives by calling for a ceasefire out of respect for the Orthodox religion despite the fact that Russia has shown no such respect for religion in areas its forces occupy. Russian religious persecutions are likely also part of an ongoing Russian cultural genocide and ethnic cleansing campaign aimed at extirpating the idea of an independent Ukrainian nationality or Ukrainian Orthodox Church.
Russian occupation authorities are likely conducting a campaign of systematic religious persecution in occupied Ukraine. Since Russia's full-scale invasion of Ukraine in February 2022 Russian soldiers or occupations authorities have reportedly committed at least 76 acts of religious persecution in Ukraine.[1] Russian authorities have closed, nationalized, or forcefully converted at least 26 places of worship to the Kremlin-controlled Russian Orthodox Church of the Moscow Patriarchate, killed or seized at least 29 clergy or religious leaders, and looted, desecrated, or deliberately destroyed at least 13 places of worship in occupied Ukraine.[2] These cases of religious repression are not likely isolated incidents but rather part of a deliberate campaign to systematically eradicate "undesirable" religious organizations in Ukraine and promote the Moscow Patriarchate.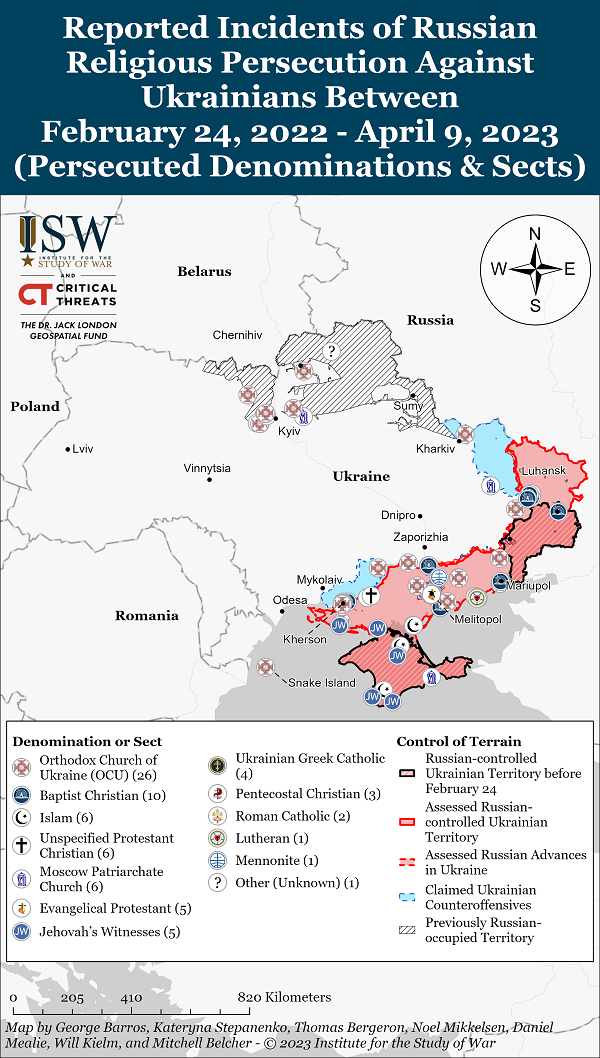 This study contains only a small subset of all reported Russian religious persecution events against religious groups in Ukraine. ISW did not include events where indirect fire may have unintentionally killed religious leaders or destroyed places of worship.[3] (This report specifically does not include all 494 religious buildings that the Russian military reportedly wholly destroyed, damaged, or looted, according to the independent Kyiv-based Institute for Religious Freedom as of February 2023 because ISW cannot assess intentionality in all those cases, for example.)[4] The events included in this study are drawn from reports of Russian forces – usually infantry, security personnel, or occupation officials – deliberately coercing religious groups. This report also excludes many instances of Russian religious repressions in areas Russian forces have occupied from spring 2014 to February 24, 2022, to focus on more recent persecutions in newly-occupied areas.