Oleksandr Merezhko is a member of the Verkhovna Rada of Ukraine (Верхо́вна Ра́да Украї́ни) and the Chairperson of the Committee on Foreign Policy and Inter-Parliamentary Cooperation. In an exclusive interview for CIVIL Media, he speaks about the fierce challenges of the Ukrainian nation in its quest to end the brutal Russian invasion and liberate occupied territories, and about the genocide carried out by the Russian aggressor.
The Ukrainian MP, also a professor of international law, points to Article 51 of the UN Charter, according to which the country victim of aggression has the right to wage war on the territory of the aggressor.
Merezhko spoke of Ukraine's Euro-Atlantic path, saying that the question is not if, but when Ukraine will become a member of the EU and NATO. According to him, Ukraine will start negotiations for EU membership no later than the end of this year, 2023.
In the interview, Merezhko talks about the true friends, among whom he includes Macedonia, and those who, at the beginning of the full-scale Russian invasion, calculated and provided humanitarian aid, which cannot be used to win a war.
Merezhko and we agreed to meet in fully liberated Ukraine.
CIVIL MEDIA: Can you share your most memorable moments as a member of the Verkhovna Rada since the beginning of the Russian brutal aggression against your country?
OLEKSANDR MEREZHKO: First of all, I am really grateful for inviting me, because it's extremely important to share our views, to express the position of Ukraine, and my position as a member of the Parliament, to communicate with the people of Macedonia. It's extremely important. And of course, I am very grateful for your support, we will talk about this later.
As to your question, you know, we expected the full-scale invasion to come, yet it came unexpectedly to us. To my family, to my colleagues, to the whole country, the first weeks of the full-scale invasion were extremely difficult.
Later, when we found out that Putin was planning to take Kyiv, to occupy Kyiv within three days, the first days were extremely difficult. But I decided to stay with my family, I didn't evacuate; even with small children, we stayed in Kyiv. It was important for us to stay in Kyiv, to show that representatives of the [political] power, legislators, stay in the country.
That moment, with my colleagues, members of Parliament, we needed to show to the whole world that we are alive, that we are continuing to work, that we are Verkhovna Rada – the parliament continues to work. And we started from the very moment, from the first hours. For example, when we found out, I woke up to explosions. We live within one-hour walk from the Parliament; it took me 40 minutes to come to my workplace, to the committee.
Within the first hours, we held the first plenary meeting and adopted all necessary laws. For example, we introduced the martial law. And you know, I was pleased to see that most of my colleagues were on the spot, they were in Kyiv. Our committee, the committee of foreign affairs, also started to work very intensively, from the first minutes of the invasion. We held our meeting, we started to work on the appeals, on the resolutions of the parliament, on behalf of the Ukrainian people. We started to appeal to the whole world, to our allies, to our friends, asking them to help us, to introduce sanctions against the aggressor, to provide us with weaponry and to support us diplomatically and politically.
At the same time, we also added a new; I call it informative function, which means there were lots of calls from journalists from all over the world. We were giving many interviews, mostly online, by phone, to different countries, to European countries, to Japan, to New Zealand, to Australian; we were trying to keep the whole world informed of what is going on in Ukraine. And we were doing this work, we were thinking what should we do next, [and keep] the sense that Ukraine will be victorious.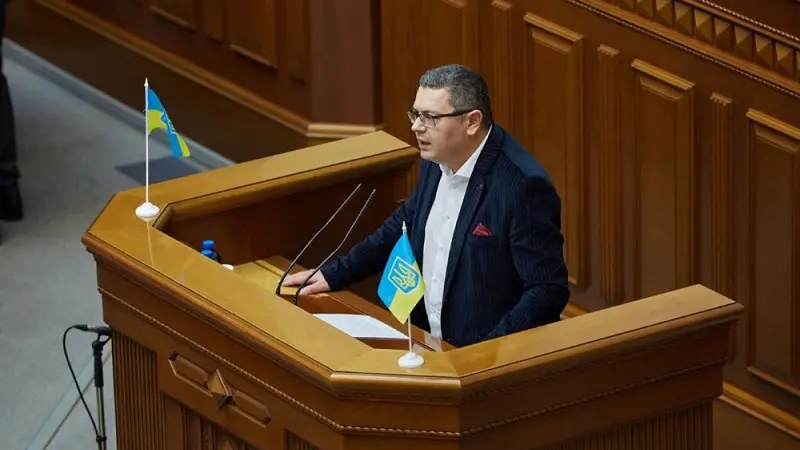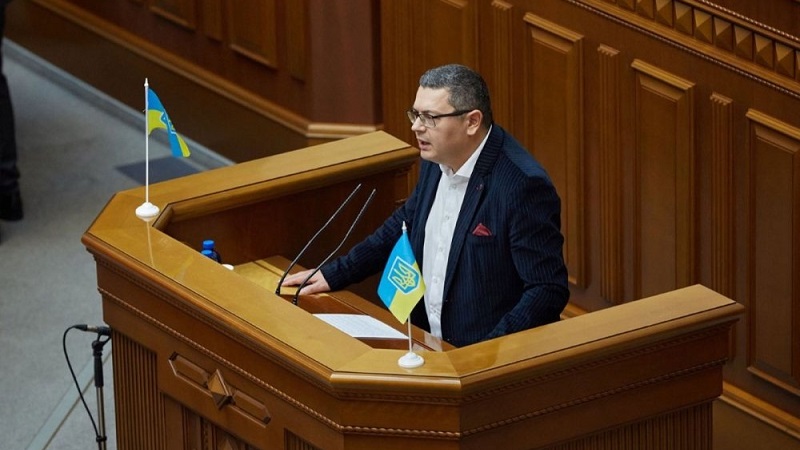 CIVIL MEDIA: Ukrainian legislators, and the government, and the President himself, are making many efforts to push Ukraine forward, towards the European Union integration, as well as to NATO membership. Do you have an assessment of the level of political unity in Ukraine, in the country, in regards to the Euro-Atlantic integration of your country? How was it in the past?
OLEKSANDR MEREZHKO: Well, the truth is that Ukraine, the Ukrainian people, have always been pro-European. We have always considered ourselves part – integral and organic part – of the European family. And our goal has always been towards becoming a member of the European Union. Right now, the support among Ukrainian people, the support for joining NATO and joining the European Union is tremendously high. According to estimates, it's more than 80%. According to some assessments, it's more than 90% in favor of joining NATO and the European Union. It's unprecedented I would say.
Of course, the war changed the situation when it comes to popular support. It made it much higher. But the truth is that even before the war, and by beginning of the war I mean the year 2014, even before that, the majority of the population in Ukraine had been in favor of joining the European Union and NATO. But now, the support is just unprecedented, just unprecedented. And this goal to join the European Union, we call it Euro-Atlantic integration, this goal is enshrined in our constitution, which is also a sign of tremendous support of European integration processes.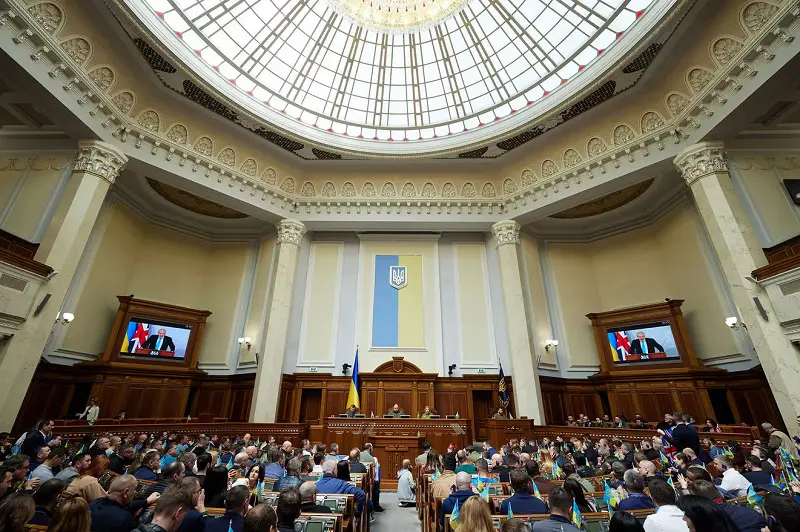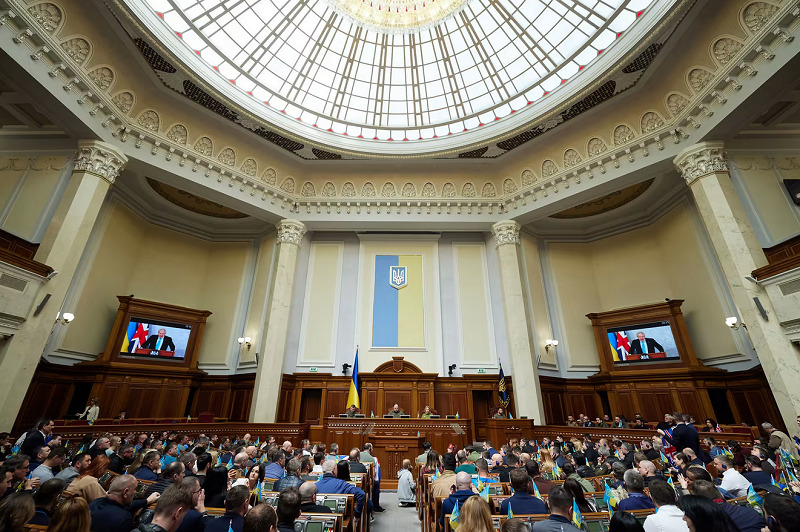 CIVIL MEDIA: Do you have some sort of a timeframe on when it will be possible for Ukraine to enter the negotiations and become a European Union member, as well as NATO member. We've recently seen the statement from Mr. Stoltenberg, who said that it is up to Kyiv and to the Ukrainian people to decide if they want to become part of NATO, and not of Moscow, as the Russian Federation dictator Putin is promoting in the last several decades. So, what are the prospects, what is the timeline? Do you have at least some estimates about that?
OLEKSANDR MEREZHKO: Regarding the European Union and NATO membership, first of all, we expect to start accession negotiations with the European Union this year, maybe by the end of this year. Before that, the European Union has issued seven requirements, seven recommendations what Ukraine should do to start negotiations.
We, as members of parliament, we have accomplished what was expected from us. We have adopted the necessary legislation.
And the Venice Commission has expressed some other recommendations regarding our performance.
So, now we are in the process of consultations with the Venice Commission, which is normal. But the truth is that we have already done the major part of our work, our home assignment. And we are hopeful that we will start negotiations by the end of this year. And I always emphasize when I am talking to my Western colleagues that our membership in the EU is not only a matter of prestige or economic development, it's also a matter of our security. Because, by being a member of the European Union, we will have more support, more solidarity of other members of the European Union. And I am sure that it will have deterrent effect on Russia, because Putin, he is a dictator, he is afraid of solidarity between democratic European states.
A good example is Finland. Finland was not a NATO member, but Putin didn't risk to invade Finland. NATO membership, we understand that the only guarantee of our security is NATO membership, to be a full-fledged member state of NATO. And it's not only guarantee of Ukraine's security, it's also guarantee of security and peace in Europe, and in the whole world.
One of the reasons why Putin invaded Ukraine, was because we were not a member state of NATO. If we were a member state of NATO, Putin would never risk to invade us. We understand this, and the whole world understands this. That's why it's so important, it's crucially important for us to join NATO as soon as possible. Of course, I understand that now, the principle political decision that Ukraine sooner or later will be a member state of NATO, was already taken. The question is only, not if, but when Ukraine becomes a full-fledged member of NATO. And we are trying to do everything to bring our accession to NATO closer. Of course, some politicians are saying that we should postpone this issue; we should put it off until the end of the war. But the truth is that we don't know when the war will end. The state of war can continue for some time. But my personal position is that we should become a NATO member as soon as possible, like Finland.
To me, and to many politicians in my country, Finland became sort of a role model. It took less than a year to become a member of NATO.  And as soon as we become a member of NATO, it will stop Russian aggression and it will give guarantees of our security. That's why it's a crucial question for our survival.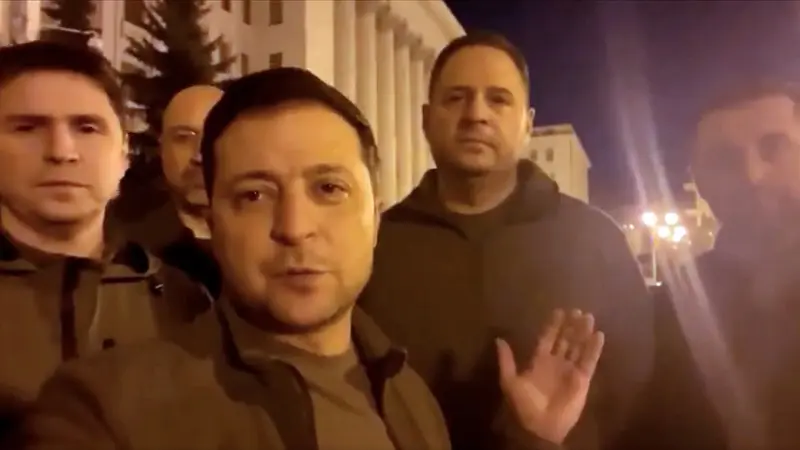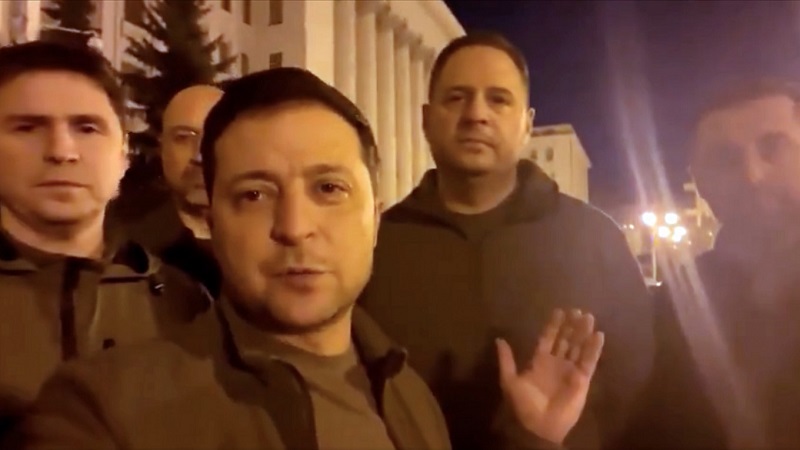 CIVIL MEDIA: Yes, indeed. I believe that with the level of armament now, and with the level of training and skills of your army, that shouldn't be an obstacle, or a challenge. However, the international community was united in the political support, at least for Ukraine, from the very first day of the large-scale invasion, but rather reluctant to provide weapons and ammunition that was so badly needed for the defense of Ukraine. What is your assessment of the foreign support now, and what more is needed to make Ukraine more capable to liberate the territories occupied by Russia?
OLEKSANDR MEREZHKO: February 24, 2022, became a moment of truth for us, because we saw very clearly who is our true friend and who is a reluctant partner. Let me put it this way. Those countries that from the very first minutes of the full-scale aggression started to provide us with all the necessary weaponry were the United States, the United Kingdom, Poland, Lithuania, Latvia, Estonia – the small Estonia – who gave us a lot. So, these countries, they proved to be our reliable friends.
Unfortunately, some other European big countries, which could provide us with the necessary weaponry, they were hesitant, which was very frustrating to me. Some of these countries started to look for arguments not to give us weaponry. They were eager to provide only, for example, 5,000 helmets, a hospital…
But you know, you cannot defend yourself, you cannot win the war with humanitarian aid, or with only having helmets. It's important, but you cannot win a war. You need weaponry, you need heavy weaponry, especially when you are fighting against a huge empire like Russia, which has the second biggest army in the world, which is well-equipped. And as I said in the beginning, it was really frustrating, but we survived. We survived and even more, we managed to defeat Russia next to Kyiv.
We managed to defeat Russia next to Kharkiv, we managed to fight successfully and drive Russian troops off from Kherson. And our other partners started to believe in us and started to provide more weaponry.
The situation has changed, but again, the policy was not consistent, because later, the policy of some countries was, I call it, a little too late. They were promising to deliver, say, 10 tanks in three months, but we needed these tanks immediately, and we needed more weaponry. We didn't need only symbolic kind of military assistance. It was a problem, but later the situation gradually changed and now we are more satisfied with the provision of weaponry. But, of course, we continue to need more weaponry, because, you know, almost for more than a month we are bombarded and shelled by Russia each night. Each night!
Russia has enough cruise missiles, it has enough drones, which Russia produces, it also buys it from Iran, from other rogue states. So, Russia has lots of weaponry since Soviet times. And we need to respond to this, we need to start a successful counteroffensive. And we need ammunition, we need heavy weaponry, now we need air defense, jet aircrafts like F16.
We also need long-range artillery and long-range missiles, because we need, for example, to destroy Russian military logistics, Russian depots with ammunition. And to do that, we need long-range missiles.
Because, you know, there is one important thing that should be remembered by each country, provide weapons to Ukraine. The truth is that Russia is committing genocide against the Ukrainian people, and when you send weaponry to Ukraine, you help to save lives of people in Ukraine. You help to save lives of not only soldiers, but also of civilians.
Imagine a situation that we don't have right now weaponry for air defense, to intercept Russia's missiles. Can you imagine what would be the situation in Kyiv, in other cities. Now, we manage to intercept dozens of Russian missiles and Russian drones. But if we didn't have it, there would be huge casualties in Kyiv, in other cities. Casualties among civilian people. That's why it's so critically important for us to get weaponry. These weapons help us to survive, and to stop genocide.
CIVIL MEDIA: Indeed, it's not the first time that Russia is committing genocide against the Ukrainian people. We all remember very well that Russia, in Soviet times, has actually conducted an act of genocide during the times of the Holodomor. And we see now, in the 21 century, in Europe, another attempt to do the same, brutally attacking civilian targets and infrastructure. In that context, I would like to ask you about the prospects of the long-expected offensive of Ukraine to liberate its territories from Russian occupation. What are the perspectives of these operations? Are you ready? Some of your military leaders say that you are all set and ready to begin as of now, as we speak. I know that you are a politician, not a military leader, but still – do you have some assessments of the strength of the Russian forces that you need to reckon with, during the liberation offensive?
OLEKSANDR MEREZHKO: Well, of course, Russian forces, Russia has accumulated lots of forces. They also are getting ready for our counteroffensive, and they are afraid of a counteroffensive. They have dug in, they have created these trenches and they are prepared. We understand this. But at the same time I am very optimistic and I am hopeful about our counteroffensive. All we need right now, we need more weaponry to have a very successful military operation liberating our territory.
I don't know, maybe we will need not only one counteroffensive operation, but a number of them to liberate the whole territory of Ukraine, including Crimea. Maybe we will need more such operations. I'm not a military person, but I have a feeling, I have intuition, know that our army is very motivated, because we are fighting for our motherland, for our homes, and our families. We are highly motivated. We have a very high spirit and morale of our soldiers.
As for the Russian army, I have this intuition that they are on the brink of collapse, because they understand that they are occupiers, that they don't bring freedom, they bring slavery, they bring war crimes, they bring torture, murder, rape to Ukraine. And I am sure that if we push enough from all sides, from our military, from the world community, in terms of sanctions, in terms of more support for Ukraine, the Russian army will collapse, it will collapse.
And it might change the situation also within Russia itself, because we know from history that each time when Russia was defeated, it would cause, it would bring about changes within Russia itself. It would lead to, for example, revolution, as it was in 1918. So, I'm very optimistic and I'm hopeful about our counteroffensive, and at the same time, I understand that we might need more such counteroffensive operations to reach our final goal, which is liberation of the whole occupied territories.
CIVIL MEDIA: As a politician, would you support an act of reckoning with the Russian logistics, military logistics and military installments within the Russian territory? Would you support such a decision to try to disable the Russian assault against Ukraine, within the Russian territory?
OLEKSANDR MEREZHKO: I will give you an answer not only as a politician, but also as a professor of international law.
Under international law, the victim of the aggression has the right to self-defense, to individual and collective self-defense, and this right is enshrined in Article 51 of the UN Charter. So, as victim of the aggression, we have the right to wage war within the territory of the aggressor. It's our right in terms of self-defense and under international law. I think it's absolutely necessary to target military objects in the territory of Russia. It's our right, it doesn't violate laws and customs of war. It doesn't violate international humanitarian law.
The situation is the same as after Hitler. Nazi Germany invaded, for example, Poland. We understand that the allies have the right to continue their struggle in the territory of the Nazi Germany, on territory of the aggressor. Without this, there would be no victory in the Second World War. So, to me, we have this right and there is no doubt about this.
CIVIL MEDIA: I would like to ask you about the cooperation between the Ukrainian Parliament and the Macedonian Parliament. We are aware that the President of the Macedonian Parliament, Mr. Xhaferi, has visited Ukraine, he visited the sights of the tremendous, horrible war crimes committed in Bucha and other locations in Ukraine. What else is needed from our country, is there any further cooperation after that?
OLEKSANDR MEREZHKO: We consider Macedonia to be our friend. You know we had recently online meetings between committees of foreign affairs of our parliament, the Verkhovna Rada, and the Macedonian Parliament.  And you know, to me it was very friendly. We had a very friendly atmosphere, very warm atmosphere, because I understand that people in Macedonia understand what is going on, we have similar historical experience.
That's why we understand each other.
And Macedonia as a state, its government, its people, are very supportive of Ukraine. We are grateful and we value each gesture of support and help provided to us. I am grateful and the Ukrainians are grateful for your military and technical support.
I understand that each country has its own capacities and possibilities in terms of provided help. Some countries have more opportunities, others less. But what we value, is when you are trying to help us. And this is what is going on between Ukraine and Macedonia.
We also see that Macedonia supports us in a very decisive way in the international arena, politically, diplomatically. You are voting for the resolution in support of our territorial integrity and sovereignty, at the General Assembly of the UN. You are participating in sanctions against the aggressor state. You are taking part in the Crimea Platform, which is also important for us, because the Russian aggression has started from Crimea and it should be finished by liberating Crimea. That's why it's so important. So, I see very warm, very supportive attitude of your people to Ukraine, and I can assure you that we value you that very highly.
CIVIL MEDIA: Thank you very much and indeed the support comes from various sides from the Macedonian society, which is also coping with the Russian propaganda, Russian disinformation campaigns and with the hybrid attacks in the recent months and even much longer. I would say, even before the full-scale invasion against Ukraine, but we somehow manage to cope with these attacks and we will keep on fighting for democracy and for the European values. I wish you all the best ahead of really difficult times and I hope to see you again, maybe in the fully liberated Ukraine one day. Thank you.
OLEKSANDR MEREZHKO: You are always welcome to come to Kyiv. We will be glad to host you. Thank you.
Xhabir Deralla
Camera: Dehran Muratov
Video-editing: Arian Mehmeti
Text processing/interpretation: Natasha Cvetkovska