DIRECTLY Deralla: Citizens should not respond to hate speech with hate speech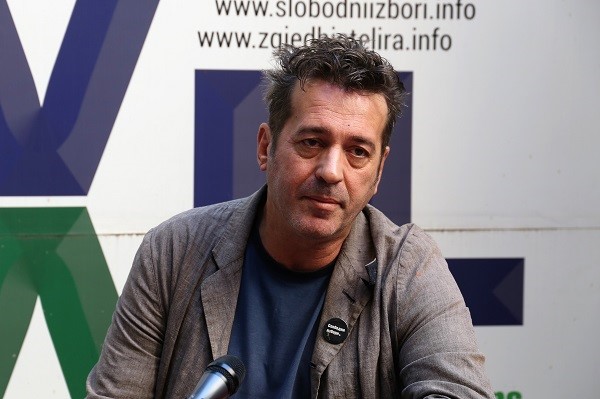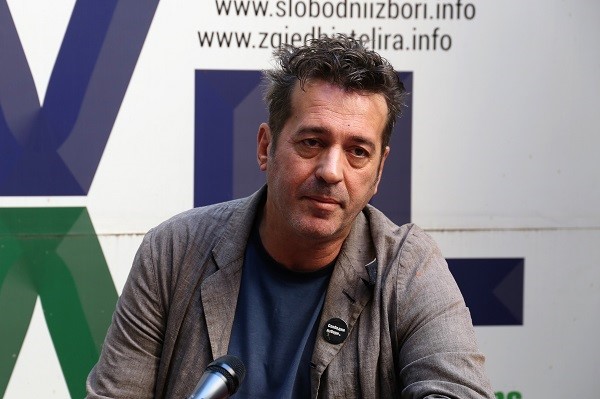 Deralla, CIVIL: CIVIL has been for quite some time observing the referendum process related to the issue with Greece, that is, NATO and EU accession. We have been especially intensively observing the terrain throughout Macedonia during the summer and from the beginning of September, and have put a special focus on how the referendum is being prepared, but also on the activities of the political parties and other structures and civic initiatives that advocate for the referendum and for a referendum turnout, and certainly also on activities regarding the opposing of the referendum and the agreement.
CIVIL has already spoken about about the situation in the country in a large number of publications, findings and texts, columns and analyses, but now we also have a classic observation on the ground, where in the upcoming period we will be coming out with daily reports from the ground.
We already published that in two completely different municipalities, our long-term observers are reporting about preparation of an activity that targets the poorer layers of the population and it is about retaining personal documents, which are used for voting. Namely, to take away their documents temporarily on September 29, and to have them returned the day after, with the intention of preventing them from voting. According to our latest knowledge, this is carried out through threats.
We have still not discovered a case in which there is money compensation, that is, vote-buying, which is also a crime, but for now there are threats, or persuading of citizens from socially endangered families to hand over their personal documents and thus be prevented from fulfilling their fundamental human right, the right to vote.
What we have also noticed and have reacted to on several occasions, among else, also to the relevant institutions, including the Ministry of Interior, is hate speech and calls for violence.
Hate speech is most often directed to the various ethnic communities, however, on a political basis, hate speech is filled with horrible threats that really diminish the dignity of the entire process, and overall the dignity of the citizens. It is a particular type of danger, because it can also lead to crimes, or hate violence. It is something that we need to address as soon as possible, and the institutions need to react very seriously and sanction such outpours of hatred and danger to the entire democratic order. It is not only about the referendum, but is about an extremely illegal activity of certain structures.
We also notice that behind those structures, regardless of how much they try to be hidden behind the syntagm civic initiative, are, nevertheless, political parties. We know that some of them even very openly came out in the calls for a boycott with violent protests, but also with considerable hate speech, and also part of the political structures, such as the biggest opposition party VMRO-DPMNE, in a hidden way, on the ground are working precisely on the boycott
Regardless of the public declarations, this party goes on the ground with direct and concrete actions. We already have reports from the ground about this, from several municipalities across Macedonia, and I think that this is a reason more for us as an organization to engage in an even more attentive, more serious and deeper on the ground observation. But at the same time to also alert the citizens that such things are happening and that they should not be a subject to manipulation.
They need to use their right to vote, to vote how they want, for or against, and certainly to have in consideration the fact: if they abstain from the voting, then they won't be participating in a major decision. Simply, the other ones, who will decide to vote, will be deciding on the fate of the country, and not them, because they decided to stay home. This is a very clear and motivating message that should convince them to go and vote, and to spend 10/15 minutes of their time on September 30.
CIVIL appeals for the citizens to vote and to use their right to vote, but at no point does it intend to suggest how the citizens should vote.
CIVIL also noted the performance of the Prime Minister and leader of SDSM, Zoran Zaev, in Kriva Palanka and in several other places. We particularly consider that the moment in which serious political corruption is noticed should be pointed out, that is, when prizes are promised, even though it is not promised directly, but rather told as an experience in communication with the business community, still, we consider that there are corrupt elements and that it is something that should not be accepted and is outside of the standards.
We noticed similar performance and procedures also during the local elections in 2017. Hence, now again we urge the public to make an informed choice, but still, the prize, especially if it is a financial one, should not be part of the convincing, that is, of the campaigns of any involved party in this referendum process.
I will repeat once again, the citizens should remain dignified and calm, and not respond to hate speech with hate speech.
Text editing: Biljana Jordanovska
Camera: Dehran Muratov
Editing: Vlado Krstevski
Translation: Natasa Cvetkovska