CIVIL MEDIA speaks to Peter Vanhoutte, a high level mediator, parliamentary and political parties empowerment expert. We discussed the current political situation in the country and the necessity for maintaining and improving the stability of North Macedonia. The interview took place on November 27, 2021 at the CIVIL Press Center.
CIVIL MEDIA: Mr. Vanhoutte welcome back to North Macedonia. It is a good opportunity to talk to you about the current situation in our country. What do you think is going on and what is going to happen after the resignation of Mr. Zoran Zaev?
VANHOUTTE: For me the situation is very complicated, because you are facing already these different types of problems. It's not only the outcome of the local elections; I think that the local elections in general were fine, the outcome was respected and it all moved on. The main problem is at the national level, at the state level.
I believe that the Prime Minister, resigning in the middle of his term, is not a good option, given the fact that you are facing all sorts of crises. There is an accession process with the EU, which is a bit complicated for the moment, so you need to find ways to talk to the EU. If there is no Prime Minister , who is going to talk to the EU tomorrow?
The other issue is of course the conflict with Bulgaria. The Bulgarians love that, because it proves that they are right with what they are doing, that their approach works – to create chaos. That's what they want, apparently, and seems to work.
Thirdly, looking at certain political parties, I don't believe it's the right timing also to leave them on their own and to look for successors of Mr. Zaev. No. First create stability, move the government until the end of the term. If you want to replace yourself as a leader in the party, fine, you can go settle that, there are procedures for that. You have to take your time for that, and do that. Please don't mix things up, as they are happening now. Don't mix your leadership of the party with being the Prime Minister  and with the defeat at the local elections.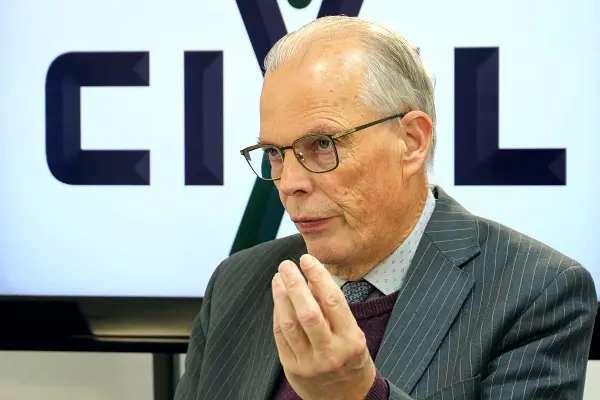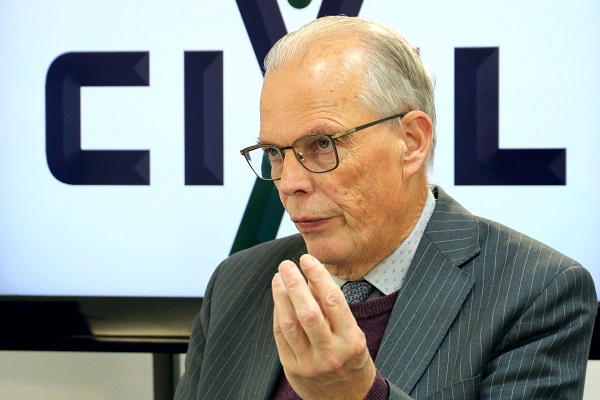 In any European country, what you usually see is a kind of automatic balance. If parties end up into power, they form a majority. Usually when it comes to local elections, they lose a little bit, because the citizens also balance, automatically, different political influence and make sure that the big parties don't get it all. Therefore, there is this a sort of division of power that at local level weaken them in a way, and at national level you can stay on, you can do whatever you want, as long as you have the mandate of the citizens.
Now, there is the other problem. If you are the Prime Minister , you've got a mandate that in the end is coming from the citizens, through parliament and so on. However, you have a mandate. You cannot just simply throw that away and say – bye, I'm going home, I don't do this anymore, look for someone else to take over. That is a shame. You have a mandate and you have to stick to the mandate until the end of your mandate. So, do your whole term, until the next elections. Giving up in the middle of that is not a good idea. You shouldn't do that and that is disrespect to the citizens, as well, I think. I believe that this really is the wrong approach; you don't do that as a Prime Minister. I have never seen that in any other country, in the European context, I would say. Therefore, first you don't do that, you stay on.
You might have personal reasons, you could have disease or family problems, that can happen, but then you tell the public – sorry, but for personal reasons I cannot do this anymore. But then, even then, you first need to consult internally, you need to agree with the partners in your coalition, because they are your partners. It's not just politicians, these are your colleagues in the government, you need to inform all of them, you need to agree on what is going to happen. If I resign, who will take over? Can we agree on someone to take over? It doesn't need to be someone from SDSM, it could also be someone from another party, that's what you need to agree within your coalition. And it's only then that, I think, you can resign, in a proper way. If you want to do it for personal reasons, that's only with an agreement internally, in the coalition, not just going public, making a statement and say – ok, bye-bye, I am going to resign. You don't do that.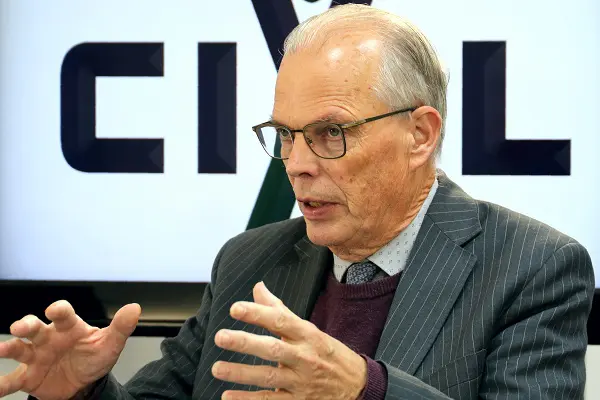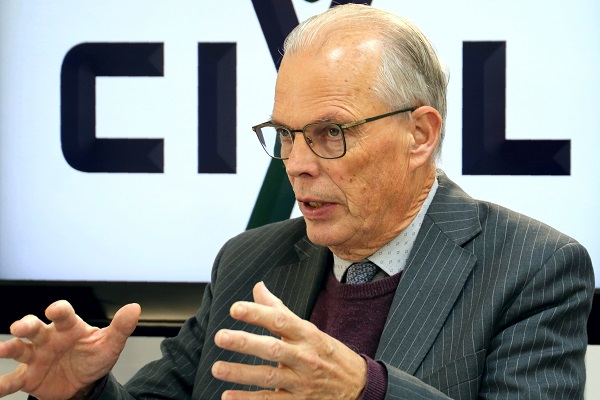 CIVIL MEDIA: Well, in that context, you probably heard and read the statement of Mr. Zaev on October 31. Somewhere in the first paragraphs, he mentioned that he is very disappointed from the state of the election campaigning, the pre-election campaigning in which – he said – that there were a lot of black money and that the propaganda was too strong. What do you think this is? I mean, isn't it outrageous? The Prime Minister comes out to the public stage and says that actually, in my understanding and in the understanding of many others, that the state apparatus didn't work, the security system doesn't work and that a lot of black money – according to the Prime Minister – are contaminating the election campaign. What do you think this is?
VANHOUTTE: I cannot more than agree on being critical to this type of statement. First of all, as a Prime Minister, it's your job – if you observe that there is a problem with black money entering the election, which might have an impact on the outcome of the elections – to act immediately. You should inform the Ministry of Interior, the different services involved in the system, to get the information on the table, and really to act immediately. Prosecute people, arrest or whatever you need to do, to bring justice and to make sure that this is not being repeated or continued. Now people get away with it, he makes a comment, no one is checking, no one is controlling, and no one is acting.
I talk to experts on this, and I only can confirm that, apparently, there might be a serious problem with an instream of black money. It is not a small amount, but rather big amount of money supporting the campaigns of certain parties at the local elections. If the experts observe that there is a problem, or potential problem, then it's time to take action, I would say. I want people to take action.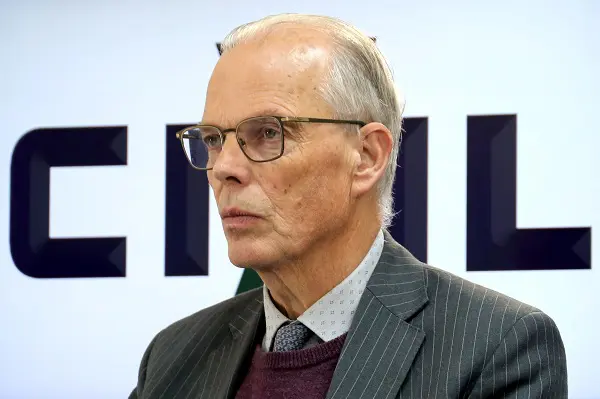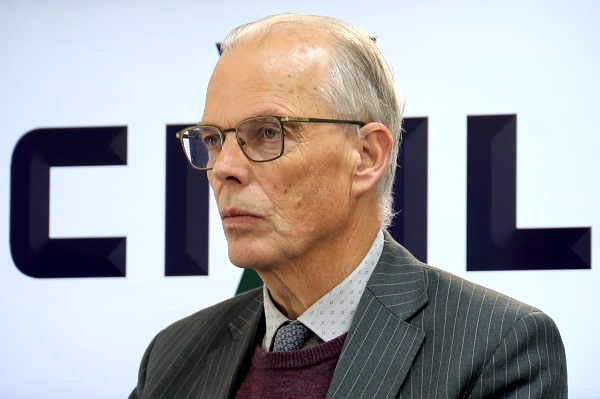 Nevertheless, it's not only about that. I see that the government is involved in some of the problems. Let's briefly talk about the fingerprint system. The procurement of that system, I will be very blunt on that, because it's hilarious. First, you say we don't have enough time to pass a proper procurement procedure. So, you basically start writing or inviting companies to propose how much it will cost if they would provide the equipment, and then you give it to the cheapest bidder, for 5 million euro. Then the bidder says – yes, that's the idea, but in the end it will cost a bit more. More than twice as much – 11 million euro. Then you accept this. That's not a proper procurement procedure.
You have bodies in this country, the State Audit Office, the judiciary that should immediately act on this when you observe this. This is the wrong way of doing procurement. At the end, the government has a huge responsibility. They should act immediately, take action and do whatever they can, to correct and prevent things from happening.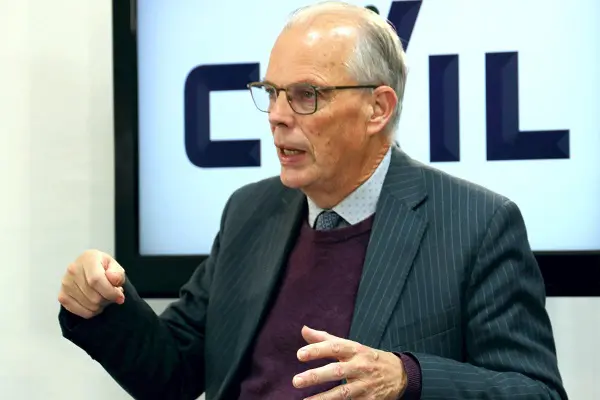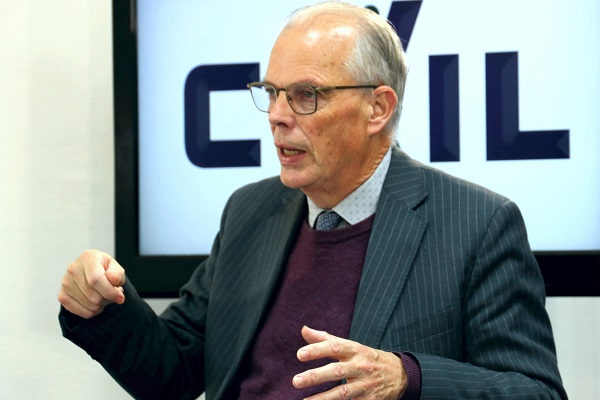 CIVIL MEDIA: Actually, CIVIL has requested an immediate audit of this particular process and several weeks ago actually, right after it became obvious that the fingerprint devices are not properly connected to the system. A proper training has not been in place and many other issues with this novelty. In addition, there is also the attempt of the State Election Commission to change the procedure, such as the case with the stamp on the front page of the voting ballot, in the middle of the election process. All these things came out as problematic issues, and not only these. Definitely, the huge and expensive black propaganda, paid probably from foreign centers, as well. Then you see the fingerprint devices not really doing their job properly, not because they are bad devices, but because of faulty procedures and trainings. Then, many other problems and inconsistencies in reading and implementing the Electoral Code. At the end, we say, in general, the elections were fair and democratic, which at the same time is true, because people didn't feel under pressure, but then there is a certain contradiction there. We have real major issues with the election process, and on the other side, we see a free and democratic process in which people felt generally free to vote for whomever they thought were better. What do you think about this contradiction, these opposed statements?
VANHOUTTE: For me, it's not good. First, the government needs to do a proper job all the time. I totally agree, it's also partially responsibility of the international community, at the second round of local elections there was no really thorough international monitoring of the process, which would have been helpful, I think, to detect at least some deficiencies in the process. Not to name, for example, the number of people that you have going to the census and the number that went to it to participate in the elections, you combine this and you think that cannot be. It cannot be that all citizens, the whole country has gone out to vote, even the kids apparently to vote. Therefore, there is also another problem. Maybe with the census, maybe with the Voters Register, I don't know. In addition, there you need to detect the problems carefully and to correct them, at least to prevent these things from happening again. That's the minimum. That's the baseline. If there is, of course, corruption in the game, having black money to support campaigns, you should act immediately. This is not declaring the election invalid or whatever, but that's a huge consequence normally, because it means that certain parties manage to create this balancing.
I have an information about votes that are bought from people. That creates a misbalance and that's not honest, not right for the citizens. The citizens have the right and even a moral obligation to vote, but please, do it in a proper way and respect the rights that the citizens have.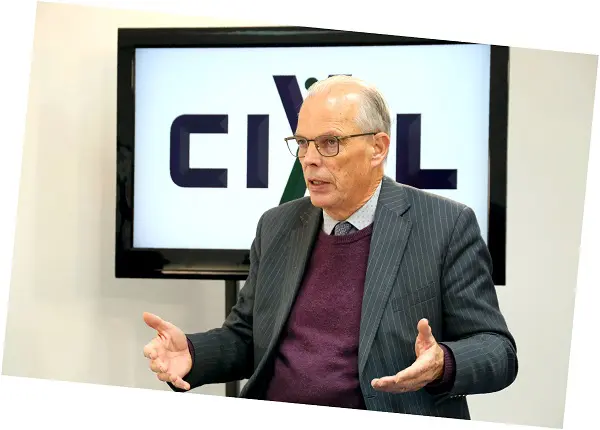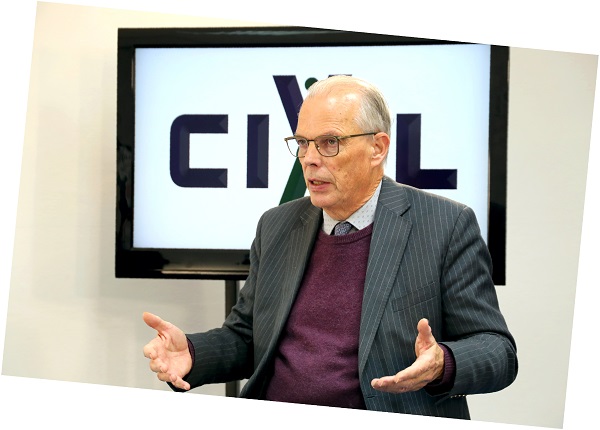 CIVIL MEDIA: At the end, could we say that we have some chances to get out of this political crisis, along with all the other crises that our country is facing? What would be your advice? Where to start?
VANHOUTTE: I'm not going to talk about the Bulgarian issue, that's a separate one. Several other things are quite important.
First, early elections are not the solution for the way out of the crisis. There's a crisis ongoing. I would say, for the level of the government, fix the problems, move on, do your work till the end of your term and only then, you go for elections. If you have early elections – that will create additional instability, certainly also in view of the EU accession process, which is stalled again. That's not the way forward. In addition to that, of course, there is huge additional financial cost of organizing elections. That's not something you do for free. You already have a lot of overspending for the moment, due to the high electricity prices and so on, so don't make it even worse than it already is the case. So move on with your government. Create stability and move on to the end of your term.
Second, fix the problems. If the Prime Minister is stating that there is an instream of black money, then the prosecutor should go to him, invite him to explain in detail what is going on, where does the information come from. How do you know? Provide some background on this and then we will do some investigation. That's what you should do in a normal democratic environment – act on that immediately. The Prime Minister, of course, should also order this type of investigations himself, I think. Different agencies are involved in this, the police, you name them, and they all have the possibility to provide such type of information as well. They have the information, then it's time to act basically on the information that you get.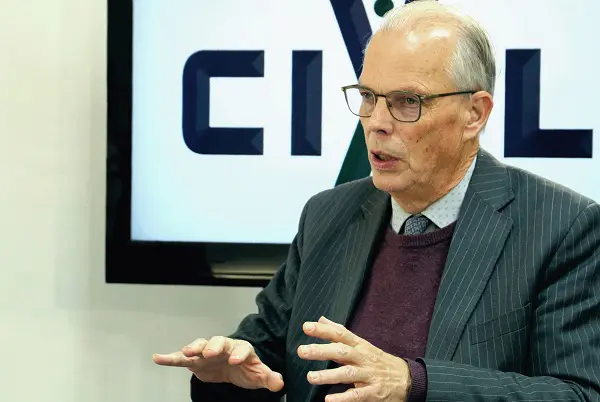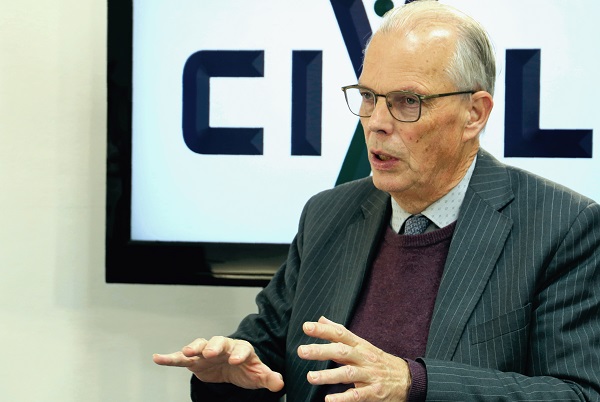 Thirdly, that has to do with the European accession process. I always tell the government – take it easy. The final decision, even on the different steps into the accession process, it's not your decision. Other people will decide, outside the country. So, you can hope for the best, but that's as far as it goes. You can try to find allies, to support your ideas and suggestions, the need to really start the accession process. That's one thing. On the other hand, you don't control that. What you control is the internal situation, improving the healthcare system. You remember the incident in Tetovo, the recent awful incident with the bus, also there is a lack, a tremendous lack of absence of any checks and balances I would say. Controls are not effective and are not performed where they should be performed thoroughly. This bus, according to the information I see in the media, appearing is that you should not have been even accepted to drive, the driver not having the proper license, and apparently that is a huge problem I think. People should act on this in a systematic way and avoid this from happening again. That shouldn't have happened at all. That's one accident too much.
In terms of priority setting, I believe that the government should focus on these issues, fix the problems, as soon as possible. In addition to that, support the development of your own country, make a strategic plan on your economic development. Develop and re-develop your agriculture as well. Design a modern, up-to-date educational system, from the beginning to the highest levels, a functioning system. Not with private universities, because education is a core responsibility for the state. You need to run the business. Now, you allow people to buy their diplomas in all different private institutions. That's not a good idea. You don't do that, it's not professional.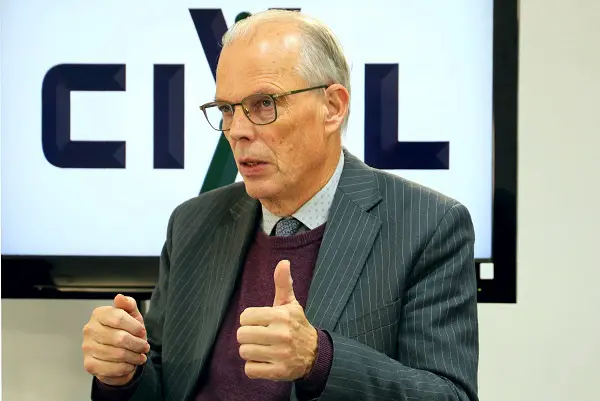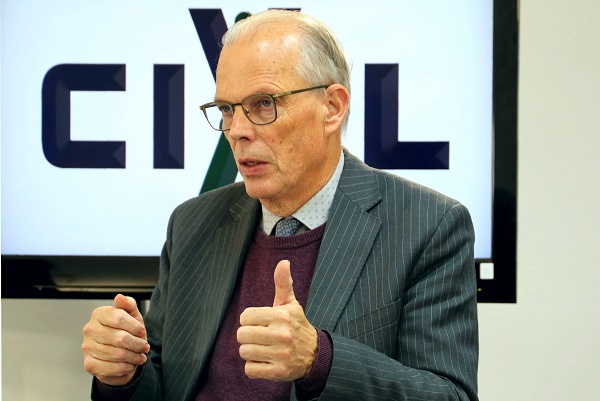 Finally, when it comes to the judiciary, dealing with corruption issues, black money and you name it, it's not the only case. I can tell you, I can give you a long list of all kinds of problems that we are facing, at all levels. That's also something that we need to fix. Moreover, the underlying problem there is what I would call – a system of patronage and clientelism – basically, you know someone who knows someone. If you need a job, you go to a politician who knows someone who can give you a job. That system doesn't work. I want to see a professional system, where you are recruited as a civil servant because you are a professional, you do the best job in the world, you have a good background, good education, you have the certificates and everything, you passed through the exams and then you can hopefully get a good job. That's the way a professional normal functioning democracy should be. Agree to move forward. But what I see is the worst of all cases. That's my feeling.
It's also the responsibility of the EU and of all individual EU member states and international community as such. The EU should not only check the boxes when you approve legislation, they should be there to monitor, to go into the field, go to the villages, go to the local schools, and see how the education works. The qualitative analyses – monitor what is really going on there and discuss and tell the people that you really need to do that. Act on all this.
Your civil service has excessively many civil servants now. Of course, you cannot, fire them, you have to be honest to the people on-board, but you need to find a way out, to professionalize the service, to work with less people and to provide job opportunities elsewhere for the remaining people – that is also very important. You can think about different formulas to fix the problem, but the long-term solution is the only way out. There, the EU has a huge responsibility to support this type of process and really help your country to find the way out of all these problems.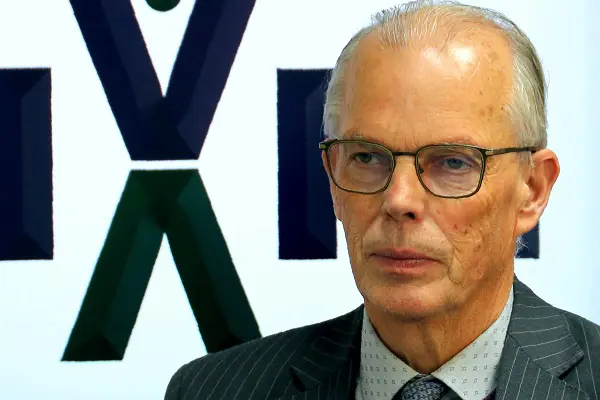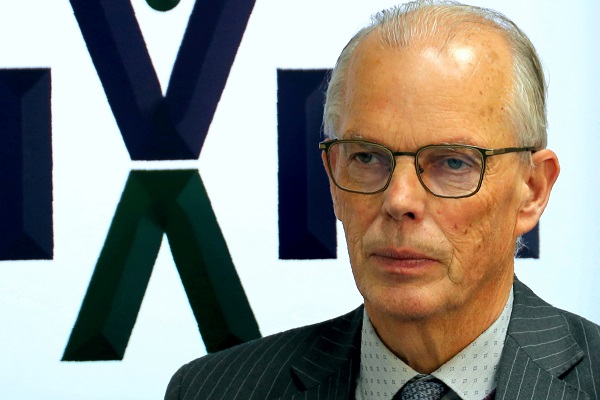 CIVIL MEDIA: Well, all this said, would you have a message to Mr. Zaev? Do you think he should resign after all these issues that we put on the table, and there are as many that we didn't mention?
VANHOUTTE: I would say to Mr. Zaev – number one, fine if you would like to resign, the process is already going on. As a party leader, no problem with that, it's good that you leave this responsibility to someone else. We cannot really focus only on party politics.
But, as a Prime Minister, you need to secure stability, you cannot resign at this stage. You need to secure a consensus, if you would like to remove yourself from the position of Prime Minister. You have to make sure that there is a consensus within your coalition on who is going to replace you.
What else are you going to do then, from outside? What is the plan for the coming two years with your government? That needs to be in place before you can even consider moving on.
Finally, and that's democracy, you've got a mandate from the citizens, and unless you have important personal reasons to resign, you don't do that. You stay on. The citizens deserve a stable government. That's why they go and vote. Don't opt for early elections, but maintain the stability, improve the stability, move on, do your term, do your job like anyone else in the country should do his/her job properly. Then, you will see, you will succeed, you will one day become also a member of the EU.
Interviewer: Xhabir Deralla
Camera: Dehran Muratov, Arian Mehmeti
Video editing: Arian Mehmeti
Photo: Dehran Muratov
Transcript: Natasha Cvetkovska
---
Use under the following terms:
Attribution — You must give appropriate credit, provide a link to the license, and indicate if changes were made. You may do so in any reasonable manner, but not in any way that suggests the licensor endorses you or your use.