"The refugees come in waves, hungry and exhausted. Even the simplest 'selamun aleykum' helps. That is what they need, encouragement and support…" says the German humanitarian Alexandra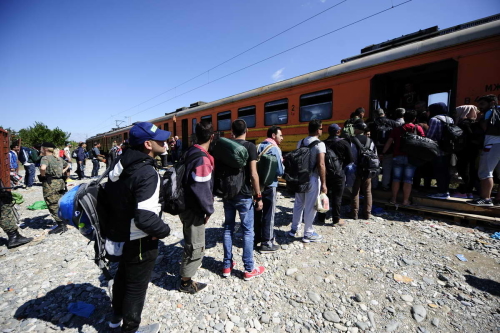 The policemen on the border crossing routinely greet us. They have been "befriended" with some of the photographers for weeks now. Across the road we're greeted by our Greek colleagues – photographers and cameramen. They tell us it's "rough" on the Greek side as well, and that they're expecting a few thousand new refugees crossing the border. We translate the news to the policemen who show barely any reaction, they only speak of the possibility of rain tonight – a particular problem for them and the tired refugees. A baby-faced policeman ironically comments –"we weren't tired anyways, we've gotten used to it".
While the sky is covered by lightning, we're returning from the border to the Transit camp where we're asked whether there will be a train to Serbia. Macedonian train drivers' strike has brought to uncertainty the two special trains the refugees used to get to Serbia. That, however, increases the amount of taxi drivers on the bridge next to Suva Reka. "What can you do, you have to live. If I get 4 people to Tabanovce tonight, there's 300 euros, a month's salary for a night's work, no better bargain… But there's no work, we wait here in vain, it's only if you get one of the richer, older ones that won't want to push for their space in trains. Most of them leave by bus, for 20 euros per person" – I'm told by a taxi driver full of resignation.
Serenity in front of the camp. It's the same story from yesterday. From last week. Refugees wait to enter in groups, looking worryingly at the sky. They've already gone through a rainy night.
"Just wait until we get to Germany, that's when everything becomes easier. Who told me? Everyone says so, that they like the Syrians in Germany. We lived in Kobani in Syria, I was a teacher and my husband a barber. My daughter's name is Arya/Aria, she's 9, and I have two sons, Ashki-7 and Shenk-3. We ran for their future, we want them to be educated and they can do that in Germany. There's no war there. It's scary back in Syria, we don't want to go back" – tells us a young lady, Hina, sitting cross-legged on the field in front of the Transit camp.
Next to her are her "colleagues", Muhammed Hasan, a biology teacher and Rudi Sheh Mohammed, a primary school teacher. Both in unison, in a mixture of Arabic and English, tell us about their trip through Turkey and Greece and everything they've gone through in the past 10 days. They tell us about the 1.000 euro per head price that they paid to the organizers of the boat trip, and about the difference in treatment of regular people they met along the way and representatives of state authorities.
The group of teachers is surrounded by a group of Roma people from Gevgelija that are reselling cigarettes and bananas, advertising their products in an astounding mix of languages. "Buyrum, bananas, drei euro, Turkish lira is okay, my friend, you buy zwei zigaretten – funf euro. In Serbia is sieben euros – ein zigaretten! Buy here, very cheap! I'm Muslim too, cross my heart!"
One of the sellers stops me and offers me cigarettes for double the price he's bought them for. I ask him whether the price is too high, adding that followers of any religion should not be making money off the backs of refugees. As soon as he sees the press-tag, he's slightly startled, but he does not back off.
"And who's going to feed the hungry mouths I have back home? These people are struggling, but so am I. You have to live from something – there's no work. And don't you act all smart, because you journalists came running to write about them. All you do is take pictures, yes, it's the same – us and you."
Two children dressed in European football team jerseys kick around a ball in front of the camp. Had it not been for the stench of the garbage mountains, the hundreds of crouching and lying people exhausted from the road, the young football players would have resembled a scene found anywhere in the world where there's no war, and socker is "the most important secondary thing in the world". For the refugees, the most important thing in the world is to run away as far as possible from the war and destruction, to create some future for their children. For the migrants, it's running away from hunger and despair. If possible, in Germany. The Promised Land. Dreamfornia.
UNHCR has employed young, Arabic speakers that act as a great support to the refugees who often struggle with English. Alexandra is a German working for the UNHCR. She welcomes refugees under the awning on the road to the Transit camp, offering them cold water and a warm smile.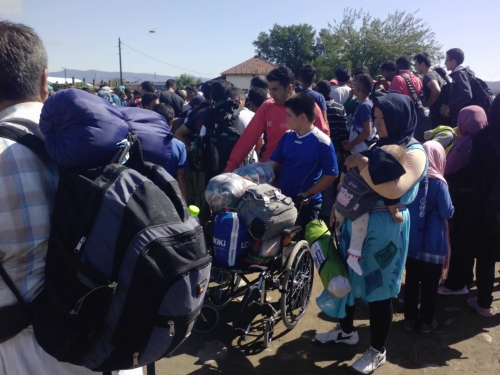 "Why they like Germany so much? (she laughs) Well, I don't know, I'm not sure. Maybe it's encouraging to know that Germany has shown willingness to host them. The English and the Americans weren't as open to the idea, so they prefer Germany, believing that they can thrive in a more open environment. Many of the migrants that were previously employed as engineers, doctors, lawyers, believe they can easily find a job in Germany… The UNHCR is here to encourage them, help them get through registration procedures and make sure they have all necessary documents ready, and of course, to ease their time in the camp as much as possible."
She has been living with the refugee problem for weeks. "People's smile when we tell them a few comforting words is something I'll remember from here. They come in waves, exhausted, it's touching. The night before yesterday the rain wasn't stopping and they were arriving, wet, cold, hungry, tired. Even the simplest 'selamun aleykum' helps. I don't speak a lot of Arabic, only a few basic phrases, but it means a lot to them. That is what they need, encouragement and support… No, I don't know what can be done to truly help these people. Actually, I do. Stop the war in Syria!" says Alexandra.
After the unnecessarily long and boring procedure, in which the journalists, civil activists and supply donators have to go through the intertwined intentions of the police and the Crisis Management Center, we are finally allowed to enter the Transit Camp.
A married couple from Afghanistan, Zuhra and Ibrahim, are waiting to exit the camp, smiling. Before going past the last bit of road they need to walk through to get to the buses that will take them to the Serbian border, they wave and 'pose' for the photographers. We exchange a couple of sentences about their future plans in Germany, where they want to find work and have kids. In the end, they thank us. On the question what they're thankful for, they answer- for talking to us! The Afghan couple supports Alexandra's thesis that every conversation, even everyday verbal support and wishing them luck in their uncertain journey, means a whole lot for the refugees
Sinisha Stankovic (VOA/Macedonian Service)