REFUGEES Strength of an Afghani woman refugee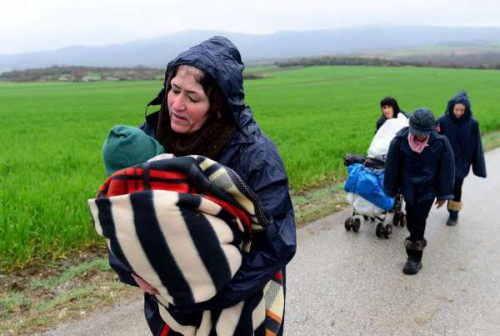 My name is Maryam and I'm from Afghanistan. Life for many women in Afghanistan is difficult because of cultural and social norms, which is why I left. At the age of 15, my parents married me off to a man who was 37. I didn't love him, but my parents said: "My daughter, he is rich, he will take care of you. You have to marry him." I had no choice or any say in it.
However, he didn't take care of me. He was certainly rich and I was "taken care of" in the sense that I had food and a roof over my head, but he was physically abusive to me. I was only 15 at that point. After some time, I met another man in whom I fell in love and ran away with him. My family cut me off, and so did my community. I haven't spoken to them for years now. I was afraid of my ex-husband and I had nobody to turn to – so my partner and I decided to leave Afghanistan hoping to find a place where we are accepted. I have two babies from my second partner, one was born in a camp in Greece and the other one was born in a camp in Serbia. Life with my second partner has turned into hell unfortunately.
Whether it was the frustration of constantly living in camps for years, or the general hardship of life as refugees, he also started physically abusing me. I don't have education and he is not supportive of me getting any. Without education, I cannot get a job. Without a job, I cannot leave him as I am financially dependent on him. Initially, we wanted to go to Germany, because I know that our human rights are guaranteed there. But the borders are closed. So here I am, back to Macedonia and planning to go back to Greece.
Even though the conditions here are challenging sometimes, the Macedonians that I met have treated me very kindly. Tabanovce is a peaceful and calming place, but I intend to go back to Greece and seek asylum there, because it is an EU country and we will be better protected there. I ran away to find a safe place where I will be accepted. My life has been very difficult on so many levels, but my daughters are what keeps me going…I am grateful for them as a gift in my life. I want to give them the life I never had, I want to provide them with education. I want them to have a normal childhood. They are what gives me the strength to continue.
---
The stories are collected by activists from Legis and are supported by GIZ on behalf of BMZ.
The content of this publication does not necessarily reflect the views of the Deutsche Gesellschaft für Internationale Zusammmenarbeit (GIZ) GMBH.