NATIONALISM - PATRIOTISM Smilevska: A patriot cannot be someone who has no opinion on the most important political issue!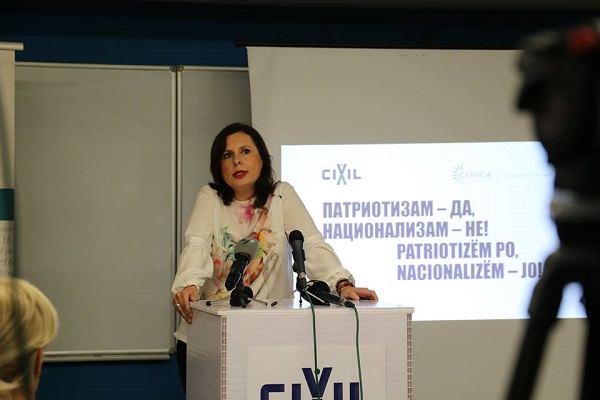 "As a woman who deals with intellectual work, for me the highest patriotic act of a government is a healthy environment, to use the resources, because I think that healthy citizens are the base of good and prosperous development", stressed journalist Milka Smilevska at today's panel discussion "Patriotism – yes! Nationalism – no!", organized by CIVIL – Center for Freedom.
"Unfortunately, for as long as I can remember, I have been living in a society that has always been at some sort of crossroads. It is always up to us to make some historical decisions. At this moment we are faced with such a matter.
What personally disappoints me, as a citizen, is that for this most important question of Macedonia's more recent history, the leader of the biggest opposition political party, who has an enormous responsibility, because in the latest elections they were given the support of 450.000 citizens, does not have an opinion on this issue. In my opinion, that is highly irresponsible and truly defeating. He is the key to whether this referendum will succeed and to whether a census will be achieved.
It is clear that if this referendum is successful, it will be easy for the politicians to turn that will of the citizens into constitutional amendments, their voting and support with two-thirds majority in Parliament, and then even support from the president of the country. That would be a phenomenal signal to the EU and USA, which as our strategic partners actually helped the country arrive to that Agreement with Greece. Tsipras and Zaev were not alone, but had enormous support of the international community.
It is precisely because of all these reasons that I cannot understand how Mickoski can remain deaf and hide behind patriotism. Is that patriotism or quasi nationalism? I think that the Macedonians supporting this party do not deserve that. If he is a true patriot, he can clearly state his position and articulate it in an understandable manner. If he has the will and he has committed to sit on the chair of a party that calls on the heritage of the greatest fighters and revolutionaries, and for which the letters of VMRO stand for. In this moment for the most important political question" said Smilevska
Maja Ivanovska
Camera: Dehran Muratov
Editing: Arian Mehmeti
Photo: Biljana Jordanovska