FLAG NATO matter resolved, the EU and domestic problems remain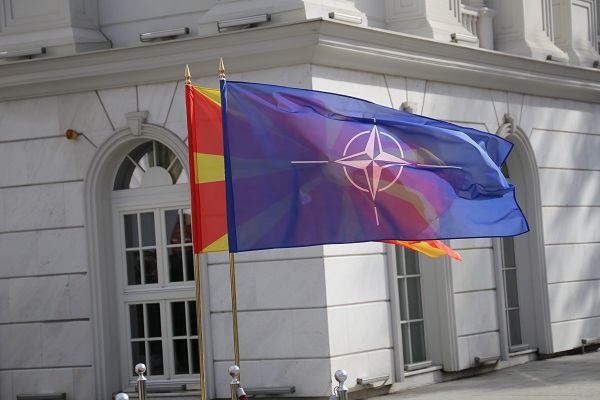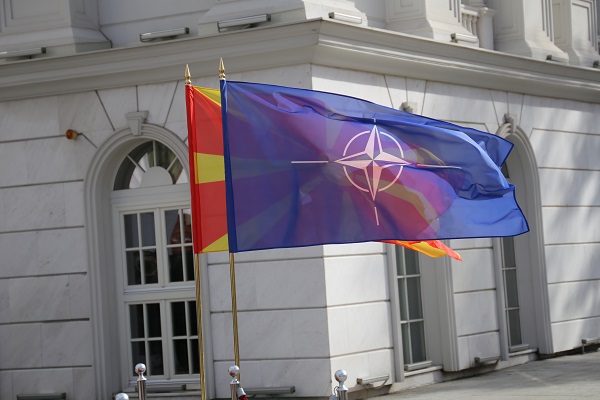 The Government decided to mark the membership in NATO with a formal ceremony on the occasion of raising the NATO flag. All ministers and senior officials, party leaders and MPs were present at the ceremony. The absence of VMRO-DPMNE MPs and of President Gjorge Ivanov was noticeable.
From the Government they informed that Ivanov had been orderly invited, despite the information that came out from the President's Cabinet that they had not received any invitation.
The ceremony began with the flag being handed over to the Commander for Honors, who, with the intonation of the NATO anthem, placed the flag on a flagpole next to the Macedonian flag.
The Prime Minister's speech lasted about 30 minutes, in which, in addition to the significance of being the 30th NATO member, it also contained future reform plans on the path to the EU, a vision for Macedonia's future, a warning to all corrupt systems in the state as well as an explanation for the changing of the name.
Furthermore, Zaev expressed his gratitude for previous presidents Boris Trajkovski and Kiro Gligorov, for their efforts for a secure Macedonia, but also for Greek Prime Minister Alexis Tsipras for achieving the Prespa Agreement.
"The vast majority of citizens were unwavering about the NATO membership. You, respected citizens, from the first day of independence, have recognized the role of NATO as the greatest guarantee for overcoming the danger of destabilization and disintegration of the state. That danger is in the past…We, with our peaceful policy, will prove that NATO membership is the best solution for the stability of the country and for the stability of the entire region", highlighted Zaev.
"Systematic changes in regards to how we are functioning, both as institutions and as a society, are in process and will intensify. Our legal system has to make justice equal for everyone, regardless of their ethnicity, financial status or political affiliation. Zero tolerance for corruption! In the institutions there is no room for those who with their work deceive the trust for personal interests and privileges. The corrupt will face responsibility! – said Zaev.
In Zaev's speech, there was also room for the European perspectives of the country. Zaev highlighted that the Government and the MPs are yet to have work in implementing the reforms, and that he does not expect from Europe to be lenient.
"We will face strong monitoring, but I know that with our readiness and determination, we will succeed to finalize all the obligations and tasks we have undertaken, not because if Brussels, but because of ourselves" – said Zaev.
After solving the NATO matter, the Prime Minister also promised a bright European future for the Republic of North Macedonia.
Biljana Jordanovska (text, photography, editing)
Camera: Аrian Mehmeti