PERSPECTIVES 2019 Najcevska: In Macedonia political parties do not exist, but rather ethno-tribal clans!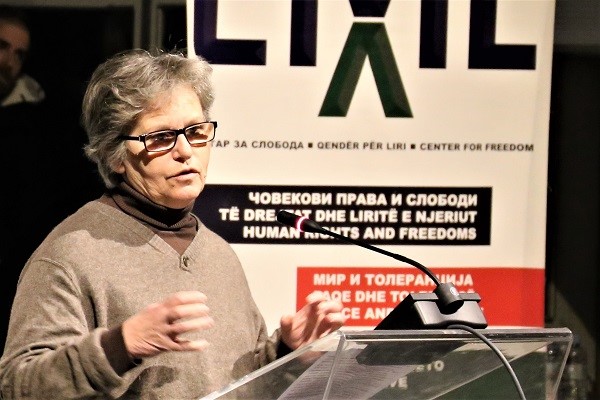 At the conference "Perspectives 2019", organized by CIVIL – Center for Freedom, Professor Mirjana Najcevska says that it is normal to have different perceptions of what is happening to us in society.
"There were many expectations, after 11 years of fascism, that there would be a revolutionary change. But it turned out that the roots of the problems are deeper, that it is not about a party unanimity or partisation of the state. In my opinion, in Macedonia there are no political parties, but rather ethno-tribal clans. They do not conquer the power in the state, but the territory of that clan. In order to show that they have conquered the enemy territory, first they color it in their colors, and then they divide it with their allies. This corresponds to the level of development and awareness", said Najcevska.
"There is no perspective as long as we don't get out from the level of development of an ethno-tribal order!", Najcevska was decisive, and added that the foreigners have a big role in this and that they will have to take responsibility.
---
At the conference "Perspectives 2019, introductory speeches were given by German Ambassador Thomas Gerberich, Minister of Labor and Social Policy, Mila Carovska, Prof. Mirjana Najcevska, Dzevdet Hajredini (former Finance Minister), Aleksandar Krzalovski (MCIC), Mersiha Smailovic (Legis), Koco Andonovski (LGBTI Support Center) and Faton Aliti.  Biljana Jordanovska, Dehran Muratov and Xhabir Deralla spoke from CIVIL.
М. Ivanovska
camera and editing: Аrian Mehmeti
photography: Biljana Jordanovska
Translation: N.Cvetkovska