The Court in Skopje ruled against the editor in chief of the Fokus political weekly magazine, Jadranka Kostova, and the journalist Vlado Apostolov accused by the head of the State Security Service Saso Mijalkov. The verdict is draconic. Kostova and Apostolov have to pay total 6000 euro compensation to the security's head Mijalkov for alleged defamation in their articles.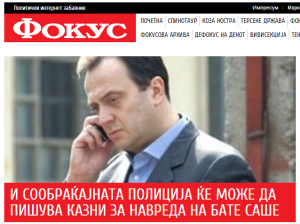 Civil – Center for Freedom strongly condemns the latest display of pressure against independent journalists and media by ruling with fines that are by far disproportionate and harsh, considering the income of journalists in the country.
Government officials need to understand their position as public figures and need to bear criticism and respond to it in a manner of dialogue and transparency. Criticism is not an offense! This has to be understood once and for all.
We take this opportunity to raise our voice once again in defense of the journalist Tomislav Kezarovski who is sentenced to 4.5 years in prison, now awaiting final ruling under house arrest, and the prosecution of the journalist Zoran Bozinovski, and awaiting extradition from Serbia. We remind the domestic and international public of the political prisoners stand trials, serve prison sentences or pre-trial detention in the Republic of Macedonia.