NATIONALISM - PATRIOTSM Georgievski: Patriotism is abstraction!
165 Views
14/09/18
in Newsroom, Referendum
Comments Off on Georgievski: Patriotism is abstraction!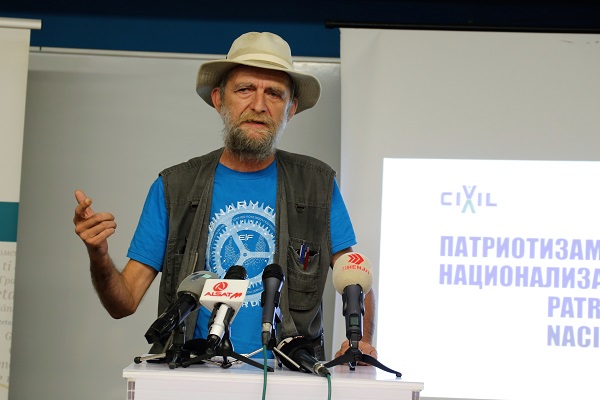 "I am one of those people who never seems to know what exactly patriotism means and what nationalism means, even though, I certainly know and have read the definitions. It is a general topic that can be discussed for days and days and yet have nothing said…" said journalist Dzvezdan Georgievski at today's panel discussion "Patriotism – yes! Nationalism – no!", organized by CIVIL – Center for Freedom.
"I read an interesting comparison, patriotism being love, while nationalism jealousy. Love isn't as abstract as patriotism is to me. Love is always conditional, the exception being parental love…
Why would I love my country if it does not love me? How is love towards a country expressed? Is it by rooting for the Macedonian representation or how?
We, at this moment, have two Macedonias in regards to the referendum. And those who will boycott or are against their selves think of themselves as patriots because they believe the Agreement harms
Macedonia. And those who are "for" think of themselves also as patriots because they think that is what is best for the country…
I would understand patriotism or would redirect it from that old saying -think globally, act locally. I want to live in a well-ordered and civilized environment. I have no doubt that I can change my country. Countries are transient categories. Mankind needs to survive further on… Let's do something to live normal and stable lives." highlighted Georgievski.
Text processing: Maja Ivanovska
Camera: Dehran Muratov
Editing: Arian Mehmeti
Photography: Biljana Jordanovska