CORONAVIRUS Filipce: A total of 48 infected with coronavirus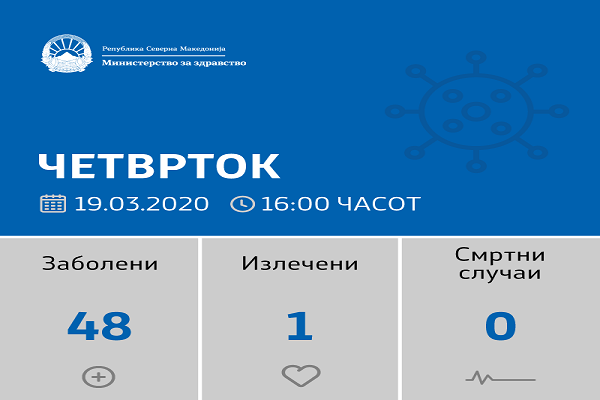 Six new patients have been diagnosed with coronavirus until 4.00 pm.
It concerns a four-year-old girl from Stip who was infected in kindergarten in England. The family had returned to the country on March 14 and had been in home-isolation. They came to be tested yesterday, two days after the girl had felt the first symptoms.
In Debar, 3 new cases of coronavirus have been registered, the tests were made within the framework of the screening.
In Skopje 1 case has been registered, a contact of the previously diagnosed.
A case of coronavirus has also been confirmed in Gostivar. It concerns a woman who has returned from Switzerland and was in home-isolation. She came to be tested alone, and on the epidemiological survey she indicated that she had been in contact with an infected person in Switzerland.
Currently, 35 persons are being tested and once the results are ready we will inform the public", announced Minister of Health Venko Filipce on his Facebook profile.