CIVIC CHARTER Dimitrovska: People with disabilities have a miserable life in Macedonia
182 Views
29/03/18
in Society
Comments Off on Dimitrovska: People with disabilities have a miserable life in Macedonia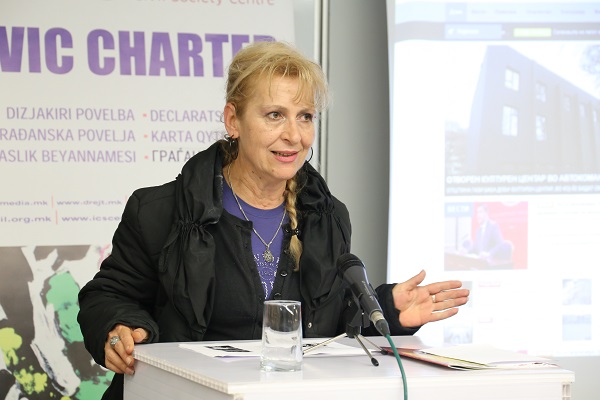 Blagica Dimitrovska from the Association for Promotion and Development of Inclusive Society "Inkluziva", Kumanovo, encouraged from the speeches by the representatives of the Government and the local government, as speakers at CIVIL's Conference "Civic Charter – The Global Framework for People's Participation", stated that people with disabilities live a miserable life in Republic of Macedonia, because she is one of those citizens characterized as a marginalized group, more specifically, she is a parent of a person with a disability.
"The issue of people with disabilities should be solved immediately. Their parents take care of them 24 hours a day, and have no legal support…The laws make us place them in institutions, while the process of deinstitutionalization is being implemented since 2000. We are requesting consultations with civil society organizations that are working in this field, and not with organizations that have been existing for a long time and present themselves as disability organizations. They take from the state budget, but do nothing at the local level", said Dimitrovska.
"CIVIC CHARTER – What's in it for me?" is a pilot project through which CIVIL continues to promote the Civic Charter in an innovative way. This includes exploration of possibilities for establishing cross-sectoral cooperation and partnerships for adoption and consistent implementation of the Civic Charter. The project is supported by the International Civil Society Centre.
Biljana Jordanovska
Camera: Аtanas Petrovski
Editing: Еrmin Klimenta