VIOLENT EXTREMISM Communities with the same goal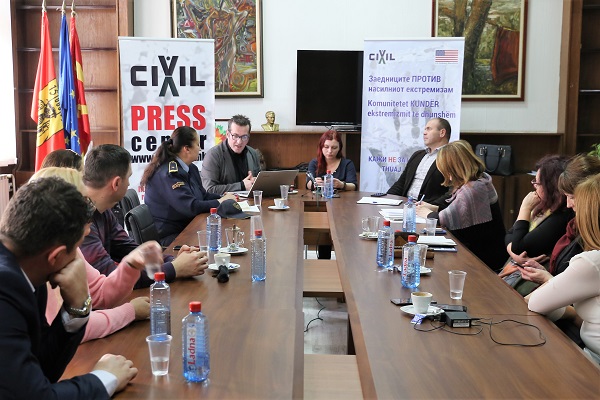 CIVIL – Center for Freedom held a working meeting in Kumanovo within the framework of the project "Communities against violent extremism", where the next project activities were defined.
Representatives of schools, the police and of the municipality spoke about continuing the cooperation in the sphere of preventing violent extremism through a multidisciplinary approach and active involvement of young people.
The participants themselves had creative ideas and solutions on how to organize a multimedia event that will convey the main messages of the project.
"The project itself leaves room for civic engagement, education, mentorship, partnership and support of the institutions and the communities in these efforts for improving communication between all stakeholders. One of the goals of the project is to introduce concrete and multidisciplinary approaches to mobilization, education and strengthening of communities at the local level in order for them to oppose the tendencies in the domain of violent extremism… Our fight is knowledge against ignorance. Our fight is a fight of positive, peaceful and creative solutions against aggressive and destructive tendencies", stated Xhabir Deralla, President of CIVIL.
Hence, one of the conceptual solutions that the participants at the event thought of was through creative messages that refer to peace instead of violence, to respect for differences instead of hatred, to equality, solidarity and freedom, to have overcome the motives and potentials for conflict and radicalization that, on the other hand, are usually the initial point for young people that later grows into violence.
"CIVIL is today at the right moment in Kumanovo. The Council and I are giving support to all projects, we are even prepared as a municipality, in the grants that we will be giving for 2020, to give an opportunity to as many as possible NGOs to participate in part of the soft measures against violent extremism, with the purpose to create a healthy and humane society" – stated the Mayor of Kumanovo, Maksim Dimitrievski.
The implementation of the activities is ongoing, while the main public event is expected to be in the second half of March.
At the first working meeting, the Municipality of Kumanovo signed a Memorandum of cooperation with CIVIL, with which they committed to joint cooperation and partnership in the prevention of violent extremism.
CIVIL is implementing the project "Communities against violent extremism" with the support of the US Embassy in Skopje since June 2018.
Biljana Jordanovska