DISCUSSION Barisic: NATO is not only a military, but also a political alliance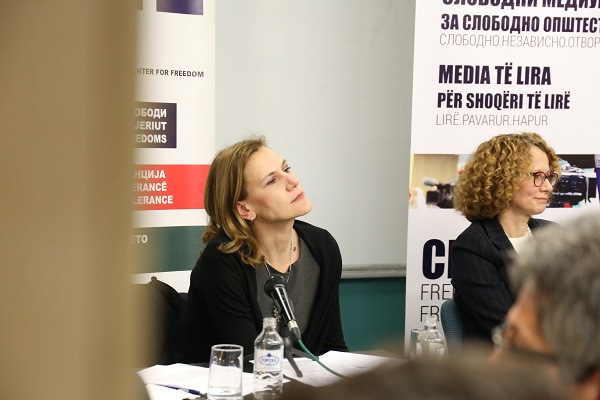 Croatian Ambassador Danijela Barisic was a guest speaker at the panel discussion "Macedonia in NATO: Tasks, challenges and opportunities" in organization of CIVIL, during which in her introductory speech she emphasized the need of a partnership on the one hand, and education on what NATO membership means, on the other hand.
Barisic made a parallel of the Croatian experience and the importance of being a part of NATO and EU before the guests that were present and the media.
"NATO is not only a military, but it is also a political alliance. An assessment is made of the defense capabilities of a country, but in the end it comes down to politics. In other words, where you stand with the rule of law, how stable the institutions are, how much civil and fundamental human rights and freedoms are respected", stated Ambassador Barisic.
The Ambassador of Croatia stressed that such debates or discussions are also a good way for citizens to learn and educate themselves on what, in fact, it means to be a member of NATO and what NATO actually is.
"In preparing for this event, I read some researches according to which many non-governmental organizations were actually against joining NATO. The reasons being are that there is no war, no one will be endangered, we are free, there is no need…However, that was 10 years ago when there was no international terrorism, in this form, there was no ISIL, when there was no such fear from migrations, but, everything changes. There is also fear that, now, NATO bases will be built and there will be no more tourism", said Barisic, stating several examples that the fear of closing the country for tourists is unjustifiable.
"It is not easy to reduce the fear and to solve all the problems. However, this can be achieved in cooperation with the partners, friends and allies…It is much easier when you are in a group that shares the same values as you, then when you are alone", stressed Barisic.
Biljana Jordanovska
Camera: Аtanas Petrovski
Editing: Еrmin Klimenta