PERSPECTIVES 2019 Andonosvki: The electoral model is the source of many problems in society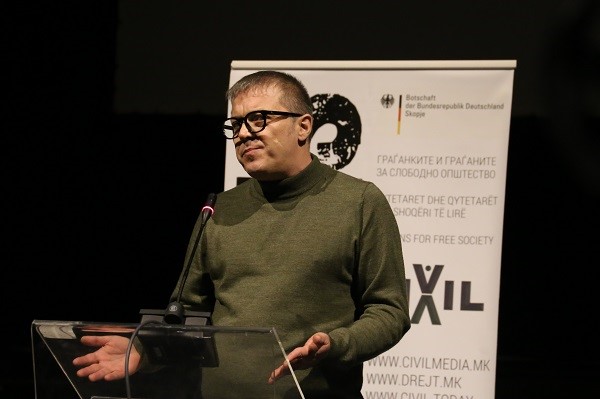 The Program Director of the LGBTI Support Center, Koco Andonovski, in his speech at the conference "Perspectives 2019", organized by CIVIL – Center for Freedom, pointed out that the biggest problem is precisely what Professor Mirjana Najcevska had already emphasized, and that is the clan-tribal behavior. He also considers that the electoral model is the source of many problems in society.
"The responsibility of the MPs goes to the party, and not to the people, because the people vote for the parties! That's wrong! They have made us live for 30 years in terrible conditions of repression, where there is no respect for anything, neither for justice, nor for rights", says Andonovski.
He spoke about the need of open lists at elections, and that from here the reforms will start to unravel.
"In our country, the point towards which responsibility should be directed is dislocated", he concluded.
Andonovski considers that this year the declarative nature of the politicians, activists and parties will start to become apparent, and as an example he pointed to the blocking of the Law against discrimination by VMRO-DPMNE and DUI.
"We as a society finally will have to overcome this year the panic and fear of the definitiveness of our standpoint", adding that we are trying to define ourselves for 30 years.
---
At the conference "Perspectives 2019, introductory speeches were given by German Ambassador Thomas Gerberich, Minister of Labor and Social Policy, Mila Carovska, Prof. Mirjana Najcevska, Dzevdet Hajredini (former Finance Minister), Aleksandar Krzalovski (MCIC), Mersiha Smailovic (Legis), Koco Andonovski (LGBTI Support Center) and Faton Aliti.  Biljana Jordanovska, Dehran Muratov and Xhabir Deralla spoke from CIVIL.
М. Ivanovska
camera and editing: Аrian Mehmeti
photography: Biljana Jordanovska