From whom and for what is Nikola Gruevski's government so afraid? If, already, the ministers, aware of their mistakes, have to protect themselves from the citizens with an iron fence, why did the monument of the antifascists have to be fenced too? And what kind of a message is being sent to the Macedonian and international public, before the Day of the Uprising against fascism in Macedonia (October 11, 1941)?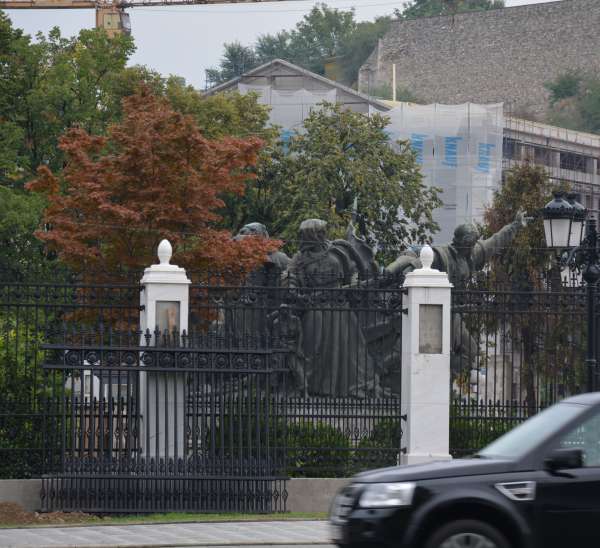 The Monument of the Liberators of Skopje, which is located in the green area in front of the Government building, now is fenced in with an iron fence, probably, within the self-disassociation from the public that the government is consistently practicing at all levels, for 10 years now. The government whose officials in all their mandates until now run away from the journalists, apart from directed PR-interviews with ready-made questions whose answers the ministers learn by heart; that government which built huge poles/columns for the fence with which it will distance itself from its own citizens, had the courage to fence in one of the most important monuments of the Macedonian antifascist struggle!? The remembrance for the liberators!
The fence from wrought iron with which the government continues to protect itself from the people, costs 700.000 euros, and is part of the project of renovating the facade of the new "baroque"-object, which according to the media, costs over nine million euros!?  With it, the government is blocking the access of the citizens to the monument of the struggle which greatly influenced the final realization of the old-age desire of the Macedonian people to have their own state, and which played a key role in the affirmation of the Macedonian identity.
Although Vase Donevski, Director of the Service for General and Mutual Affairs of the Government, explained to the media that six entrances to the government have been planned, which will be open for the citizens on working days (from which one is exactly at the monument), no one mentioned whether the government will allow the citizens during the holiday – on Sunday – to approach and honor the heroes?
Or, someone wishes to stop this solemn act, and on the big holiday of 11th of October, to disallow the citizens from celebrating the people that brought the freedom of Macedonia?
In the current political climate, this sarcastic question is inevitable: with the fencing of the Government, are certain holders of public offices getting themselves used to life behind bars?
Emrah Rexhepi