By XHABIR DERALLA
The European Union keeps bragging about its successful sanctions against Russia.
"Sanctions are essential to significantly curtailing Russia's ability to wage war. Russia's imports and exports are down by 20.8% and 12.3% respectively. €20 billion in assets of listed persons are frozen in the EU. Our sanctions are working. And while Russia continues to wage war in Ukraine, they will stay", reads the EU Commission's Instagram story on January 7, 2023, and ends with #StandWithUkraine hashtag.
Well, while it all looks so fancy and big, the reality is 'somewhat' different.
No matter how hard it tries, the European Union cannot escape the facts. Russia is waging a brutal, genocidal war on European soil in a WWII invasion style, only more destructive, and targeting civilians from the first hour of the war. This rogue state – that has never in history been democratic – undermined the international law and global order many times before, now it only did it all the way. Moreover, they blamed the West and NATO for it. Russia weaponized refugees, energy and food. Committing thousands of war crimes in 300+ days, turning a country of 44 million citizens into a meat-grinding machine. The list goes on.
It seems that everyone in Brussels and other EU capitols keep forgetting that it all started with the attack on Ukraine in 2014. The attack started right after the Maidan Revolution, when Ukrainians toppled the authoritarian regime that served only Russian interests for years. For eight years, the EU ignored an occupation of 7% of Ukrainian territory. Then, the all-out invasion started and triggered 'a decisive' action – sanctions "to significantly curtailing Russia's ability to wage war". If a totally tragic and bloody war wasn't in question, this would have been a hilarious parody.
Russia waged a propaganda war against Western democracies and democratic values for decades. Kept on waging hybrid war against core interests of the EU, USA and other democratic countries. Instigating, stirring or financing extremist far-right movements, internal conflicts, and crises. Corrupting high-level politicians, media, and civil society. Installing espionage and subversive networks.
What were the EU and other Western democracies doing in the meantime? Doing business as usual – with a dictator and cold-blooded criminal – Vladimir Vladimirovich Putin. For 23 years, Putin was a well-received and/or deeply feared "partner". (Should a partner be feared? Well, it's a rhetorical question.) What really happened is that Russia has imposed a threat to the whole world long before sending its gargantuan killing machine against Ukraine on February 24, 2022. Anybody mentioning Belarus? Ukraine is practically attacked from and by two countries – Russia and Belarus. The EU seems to be quite forgiving and forgetful when it comes to business and political (self) interest.
All this said, and a lot more self-understanding and needless to say – EU claims that it helped Ukraine and that its "sanctions are working". Wait a minute. Sanctions are working? "Russia's imports and exports are down by 20.8% and 12.3% respectively", says EU. Or, in more details, the forecast says that the Russian economy (GDP) is down for 4.5% in 2022 and will further fall for another (estimated) 3.6%. Wow! Is that what the EU calls successful?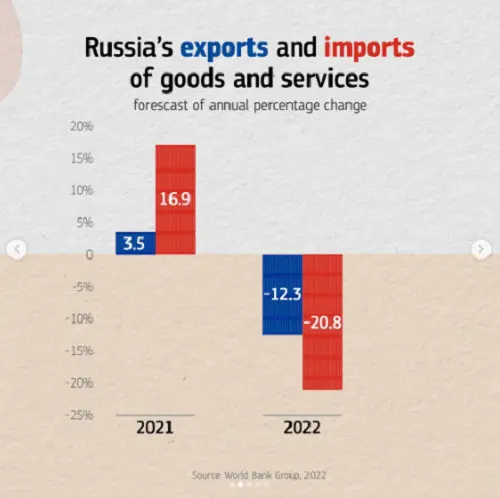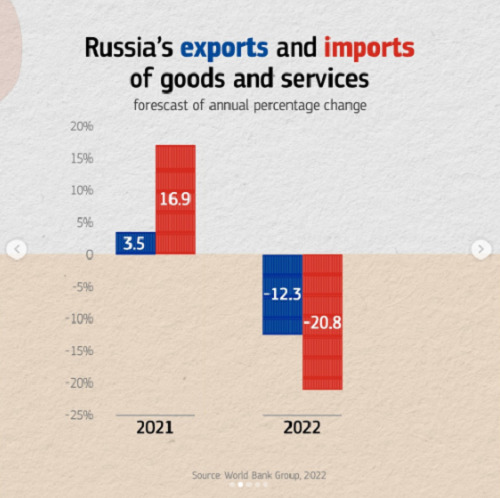 Let's look at the numbers again. Actually, Russia's exports and imports are 79.2% and 87.7% compared to figures before it attacked Ukraine. Russian imports and exports went up in 2021 (3.5% and 16.9%, respectively). Clever. If you prepare for war, one should increase those numbers. Well, also during the war, the Russian economy had tremendous gains. It should be enough if we only mention that Gazprom's profits skyrocketed in 2022? Why? Among many other reasons – EU calculated too long with the 'gas price cap'. Well, looking at these figures, one should say that Russia is doing extremely well; especially having in mind that it's at war. Of aggression.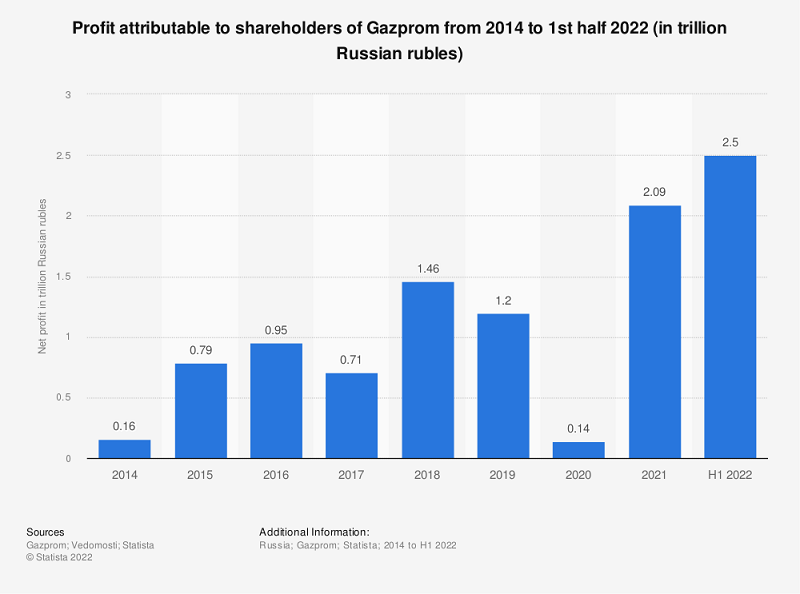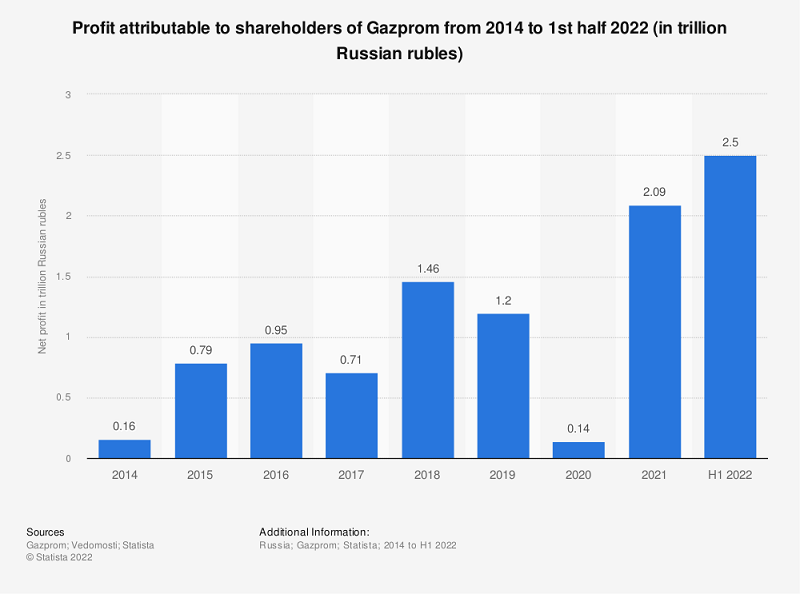 "€20 billion in assets of listed persons are frozen in the EU." What does that really mean? Does it mean that the EU was doing absolutely nothing while "€20 billion in assets" have been mounted and used by people who support the Russian war machine? Moreover, 'frozen assets' does not mean a lot, really. Can't be sold, but they are still in possession of Putin's allies. Moreover, those assets can be unfrozen at any time, can they?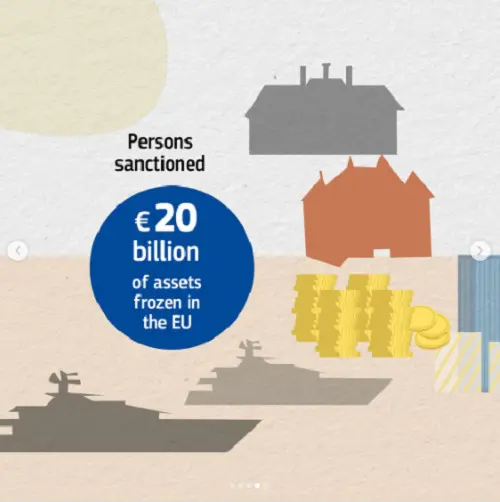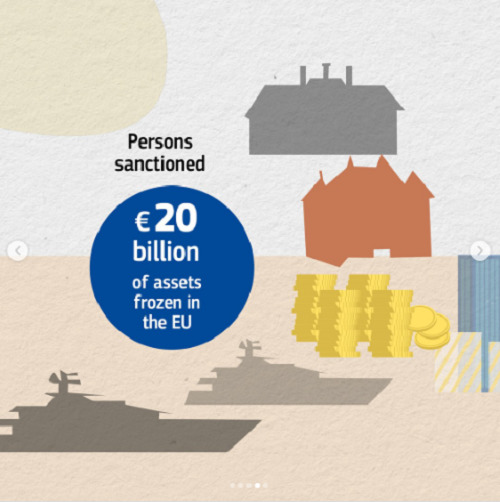 Brussels seems to forget about several other critical questions. How many billions "in assets" are still there? More importantly – did, by chance, meticulous bureaucrats in Brussels calculate how many billions (in money and shares) are currently in use by EU-based Russian oligarchs, who keep financing the war? Who has the guesstimates on the amount of cash in the hands of the Russian espionage operatives and criminal underground currently circulating across the EU? How much is in the hands of the proxies – within Europe itself – who make profits for the benefit of Putin? How many proxies are there? Anybody mentioning the Belarus assets and cash? Not to mention the whole bunch of Asian and South American countries that play for their own, but also Russian interest.
Even in its own backyard, it seems, Brussels is blinded by being so 'successful' in helping Ukraine. It obviously didn't take the time to think about assessing the amounts of money and assets managed or owned by politicians and businesses in European countries that openly or secretly line up with Putin. Not to mention, again, the far-right populism and radicalism, which is on the rise, supported by the Kremlin. Brussels' bureaucrats seem not to see that the darkest political groups on the continent are capturing the hopes of Europe's working class. Like in the 30s of the 20th century.
Compared to the billions of US dollars in military aid to Ukraine by the United States of America and the few billions of euros from the EU, it seems that Russia has the upper hand in this matter, after all. In other words, if Russia can afford to lose some of its imports and exports (by 20.8% and 12.3% respectively), and its oligarchs can afford to get some 20 billion in assets frozen, the support is rather microscopic. It is all a matter of common sense. Regardless of how fancy EU's Instagram infographics are.
*
However, no matter how far from enough it is, the support by the EU remains essentially needed. This statement is as unfortunate as it is humiliating, and alarming for all. Nevertheless, the EU can really do more and better. It has to. If not for the sake of humanity or the sake of the Ukrainian people, then surely for the sake of the EU citizens' wellbeing and freedom. If it really cares about the citizens.
It took nine whole months for the European Parliament to declare Russia as a state sponsor of terrorism. Whilst the terror and war crimes were evident from the very beginning. Why? Because it is not happening to the EU? Well, this all is happening to the EU, as well. And if it doesn't act, it will only get worse. The only sensible measure for the EU and other countries of the 'democratic hemisphere' could have been to start with a total ban on all trade with Russia, total embargo, and immediate full military support of Ukraine. Anything less than that (as it is) causes only more immense suffering and destruction of Ukraine.
*
This tragic story – the story of Ukraine – is the story of world's freedom and democracy. It is far from its end. After the brave people of Ukraine win the war against the aggressor, it still needs to heal the deep wounds in society, and to rebuild the country – infrastructure, hospitals, schools, cultural institutions; economy, security, defense… It needs to take care of deeply traumatized children, women, elderlies; soldiers, POWs, refugees, deported, captured, tortured, kidnapped, wounded, raped, maimed…
But the EU is proud. "Sanctions are essential to significantly curtailing Russia's ability to wage war", it says.
---
The views and opinions expressed in this article are those of the Author and do not necessarily reflect the views or positions of Civil and its media platform. All rights reserved.