Yesterday marked the death of ex-Yugoslavian singer and songwriter Djordje Balasevic. Many shared posts on the social networks and wrote in memorium texts in the media.
Unfortunately, this news too was used for spreading hate speech, attacks and discrediting against those who in the public are known for their critical view and opinion.
Hence, activist and journalist, also being a songwriter himself, Petrit Saracini found himself being the target of the well-known spreaders of hate speech, just because of expressing a personal view of his. His view of Balasevic is based on his good knowledge of the social and political circumstances in which the song-writer performed.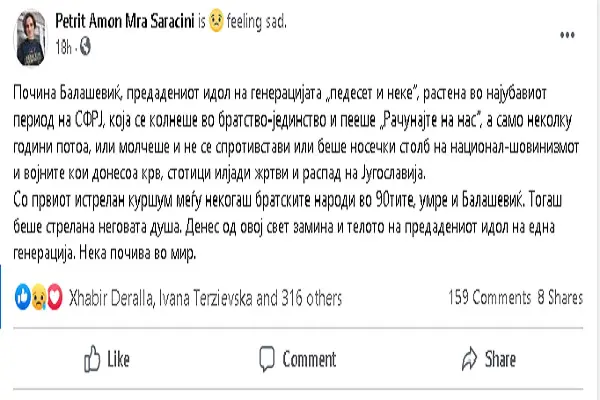 "Balasevic has died, dedicated idol of the "fifty and something" generation, having grown up in the most beautiful period of the SFRY, which swore in brotherhood and unity and sang "Count on us", and which just a few years later, either kept silent and did not oppose or was the pillar of national chauvinism and the wars that brought blood, hundreds of victims and the disintegration of Yugoslavia.
With the first bullet fired between the once brotherly peoples in the 90s, Balasevic also died. That is when his soul died. Today, the body of the dedicated idol of a generation has also left this world. May he rest in peace", writes Saracini on Facebook.
His post was a "good" occasion for some well-known Facebook commentators, but also Internet portals to come out with posts, comments and headlines filled with insults and hate speech, which are especially not appropriate for the media.
And so Republika.mk decides to put out the Facebook status of Bogdan Ilievski titled: From the selection of nuclear stupid statements, we single out: Balasevic had been the pillar of wars and disintegrated Yugoslavia!
Otherwise, the comment of Ilievski (Betmen Velit) reads:
"As Djole would have said: "God, God…" 🙂
* I edited because the unclearly written text truly can be interpreted as though Pjetro is attacking all people "Born in fifty and something", who, according to him, either kept silent or were a pillar of wars, and not (only) Balasevic.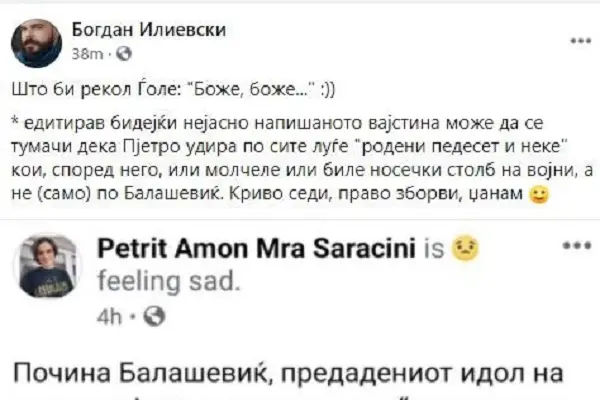 The "Cyber Club Ludata Joci" fan page, comments Saracini's status with a direct attack against him, given that he is one of the few who manages to expose the network on Facebook and Twitter intended solely for spreading hate speech, calls for hate crime, fake news and disinformation. This Facebook page is on that list.
"The former government advisor, and now writer on a portal that believes he still is a 'journalist', Balist Petrit Amon Saracini is very familiar to me for his malice, but there – it has outpoured like a geyser precisely on the day someone, who he cannot measure up to even in ten life times, has died. Whose music united, not divided.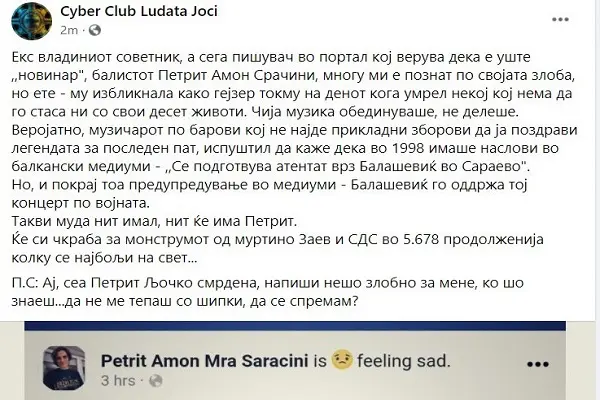 The bar musician who didn't find the appropriate words to say farewell to the legend, probably left out to say that in 1998 there were headlines in the Balkan media – "An assassination attempt is being prepared on Balasevic in Sarajevo". But despite that warning in the media – Balasevic held that concert after the war…".
There are numerous commentators who wrongly understood Saracini's message, thinking that he is describing Balasevic with national chauvinism, without paying attention that the context is completely different and that: "With the first bullet fired between the once brotherly peoples in the 90s, Balasevic also died. That is when his soul was shot".
CIVIL's Monitoring Team