DAILY BRIEF Kosovo with support for the referendum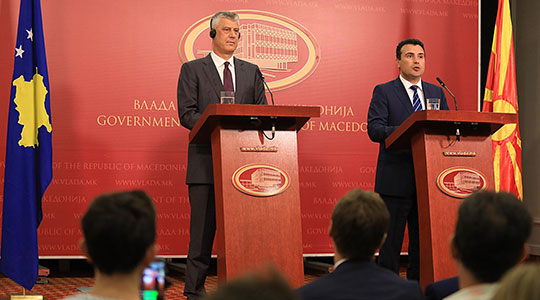 Prime Minister Zoran Zaev stated that he is prepared to accept a debate with Mickoski, when he will clearly and publically say that he is against the boycotting.
"Once he says that, I will immediately accept the debate. Such views are definitely misdirecting the future of Macedonia", stated Zaev.
"Macedonia's future deserves to always have discussions on that issue, and from that aspect, the boycotting of Macedonia's future does not represent any basis to sit down and talk", said Zaev.
The President of Kosovo, Hashim Thaci, who was in a one-day visit to Macedonia today, stated that the agreement reached with Greece on the name is the most righteous decision, because the future of Kosovo and of Macedonia, as well as of the entire region, is in EU and NATO.
"Kosovo is giving you full support to move forward towards NATO membership and the European future", stated Thaci.
Thaci called on the citizens of Republic of Macedonia to participate in the referendum and to vote "for", because, as he assessed, Macedonia in NATO means peace in the entire region, including Kosovo. For him, this is a historic moment that should be used.
Within the framework of the reforms for opening negotiations for joining the EU, they will be specified with a new Law on Senior Managerial Service, for which the information on bringing such a law passed at yesterday's government session.
The law will apply to senior managerial positions, such as directors and secretaries. It will not refer to the highest political positions such as ministers or deputy ministers, as well as to independent bodies like the Ombudsman or the Commission for Protection of the Right to Free Access to Public Information.
A Committee will also be formed that will select candidates, while the election of managing staff will be carried out through a public announcement to which citizens with university education can apply.
Managerial staff will be evaluated one year after their appointment, and every two years.
А. Petrovska