Even though the elections ended 35 days ago, Skopje continues to be filled with ads and billboards for presidents and leading candidates.
Billboards of the prime minister Nikola Gruevski can be seen in the center of Skopje, also there are billboards that were settled during the presidential election campaign of the candidate and current President Gjorge Ivanov. Although to a lesser degree, billboards of other political parties can be seen across the city.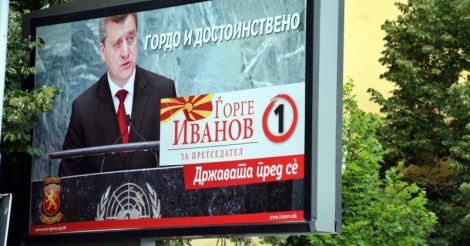 Electoral Law stipulates that the election campaign organizer is obliged within 30 days to remove the posters. If they are not removed the organizer of the campaign is punished in height from 500 to 2,000 euros. Ilija Dimovski, VMRO-DPMNE spokesman didn't respond to our calls to explain why the billboards aren't removed. Connoisseurs who consulted say that the Electoral Law is ambiguous about removing the billboards.
"The law is very poorly regulated. It is not clear whether including posters and billboards when it is said residue. It is not clear who is competent to give the punishment. What is clear is that only the campaign organizer is obliged to remove them, and advertising agencies to remove the billboards. It certainly was not done, with the billboards, there is no substitute, so billboard will stay until someone else rents them, "explains a member of the State Election Commission.
Jabir Deralla, chairman of civilians, calling on the responsible institutions to clarify these ambiguities and to act as required by law.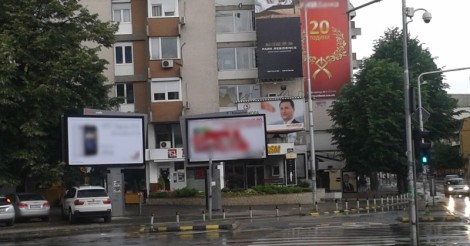 "We remind the election campaign organizers that in accordance with Article 79 paragraph 2 of the Electoral Law (LZ), are obliged, within 30 days after the election to remove the posters. If not, in accordance with Article 185 of LZ misdemeanor punish campaign organizer in height from 500 to 2,000 Euros in denars, if at the time, specified in Article 79 paragraph 2 of this law, do not remove waste from the posters. We call on relevant institutions, operating system under the provisions of the Electoral Law and for those who will be found to have violated, to set appropriate measures " appeals Deralla.
This is the first time that citizens are surrounded by billboards of political parties long after the election. In past presidential elections, Ivanov's picture stood on a building in downtown Skopje full 10 months after the election. Even then media forwarded the question of who is competent to take away the big picture, which spanned four floors of the building. VMRO-DPMNE was sentenced in this case because of the uncertainty of the Electoral Law – should be removed from the advertising campaign organizer or by any advertising agency.