The News1.mk website published a text titled "(PHOTO) Fans of Shverceri – Shkupi protested on the other side of Vardar". The text appeared during the violent protests against the EU solution to the Macedonian-Bulgarian dispute, which was held in front of three Macedonian institutions – the Parliament, Government and Ministry of Foreign Affairs, on the evening of July 5.
This photo "news" consists of a blurry photo made from afar and one that doesn't explain, nor illustrate the claim in the headline. The text reads:
"A larger group of citizens, fans of "Shverceri – Shkupi", who are carrying an iconography of UCK with them and are shouting nationalist slogans, protested on the other side of Vardar, under the Kale, near the Goce Delcev bridge. Police forces are holding the group in that part of the city".
The text ends with the words "More coming up soon…" and is not signed.
This is disinformation.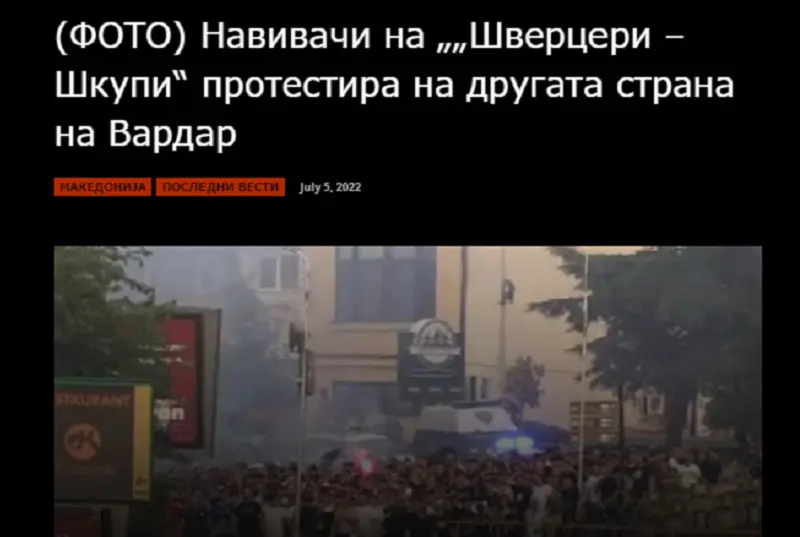 Screenshot of the headline and photo of the text published on News1.mk, on the night of July 5, 2022
What's it about?
The truth is that it's about a fan group of the "Shkupi" football club, which gathered to support their sports club. The fans gathered ahead of the football match that is part of the "Champions League", in which the Skopje football team Shkupi played in. Not to protest. Nothing can be linked to the protests, except that the football match was held at the same time as the protests.
Screenshot of the text and photo published on News1.mk, on the night of July 5, 2022
Additionally, the News1.mk website, in the text mentioned, encourages ethnic prejudices and stereotypes, without a sense of responsibility for the harm it can cause at a time when society is facing delicate processes and security challenges due to the escalation of the protests. The phrase "on the other side of Vardar" that is used in the headline and in the text is used to point to the ethnic affiliation of the Albanians, even though at least six different ethnic communities live on both sides of the Vardar River that flows through the capital city.
The motive for placing this disinformation remains unclear.
During the violent protests that were organized by radical anti-Western political parties and associations, 47 police officers were injured, of which 13 suffering serious injuries, including two in a serious condition. The internet media and social networks were filled with hate speech and calls for violence based on ethnic affiliation and political orientation.
CIVIL Monitoring Team