ANTINATIONALISM CIVIL: HATE SPEECH AND VIOLATION HAVE TO BE ERADICATED
122 Views
02/02/18
in Society
Comments Off on CIVIL: HATE SPEECH AND VIOLATION HAVE TO BE ERADICATED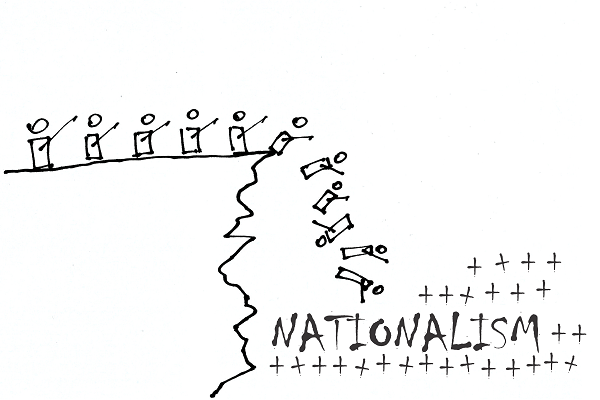 Ethnic tensions in the country are on the rise. These past days, a case was reported in CIVIL – Center for Freedom in regards to ethnically and religiously motivated hate speech and physical violence against a citizen of Macedonian origin, who lives in an ethnic Albanian dominated surrounding.
As it was also published in the column "You little whore, we will eliminate all of you, while we will crucify you!", the life of our fellow citizen is filled with fear and insecurity because of the violent behavior of several of her neighbors. According to testimonies, she is often harassed and has even been physically assaulted three times. Her only "fault" is that she is a Macedonian!
Neighborhood offenders call her nasty words like "whore, slut, converted…". When she appears on the street, they often call out to her "We will eliminate all of you! Go away from here!", "We will crucify you, you converted one! Just like one of yours was, we will crucify you and we will cut you in pieces!".
After she was beaten the last time, she does not sleep in her home anymore, where she grew up and where up to about a year ago she had no problems at all. But her problems do not end there. She is also disappointed in the police, from whom she requested protection after the last physical assault that took place the day after Christmas. According to her words, they treated her as a criminal in the police station, as if she were the offender. She says that they had also changed her statement. Now she is also afraid of them, the police. Immediately after this case was reported, CIVIL contacted the MOI and expects for this case to be resolved as soon as possible. At the same time, CIVIL is informing the public that there is a growing number of reports on ethnically motivated hate speech and violence throughout the country, especially after the story has been published in several media outlets. The Albanians and the Roma are also a target of unlawful action, hate speech and violence, along with representatives of other ethnic and religious communities.
CIVIL is convinced that this a result of the destructive actions of certain political structures, as well as of piled up unresolved problems in the sphere of interethnic and inter-religious relations in the country. "We can expect deepening of the gap between ethnic and religious communities, as a result of the long-term neglecting of unresolved problems" – stated Xhabir Deralla, President of CIVIL.
"We cannot allow for artificially imposed and partial solutions to regulate the relations between the citizens of different communities. If the Colorful Revolution and the early parliamentary elections in December 2016 showed that Macedonia can be a country of an example in the region and much wider, we now see a different situation. On the one side, that is a result of the deconstructive action of certain political, but also criminal structures who want tensions and violence, and on the other side, passiveness is also noted, corruption and incompetence of the institutions in which the reforms have either still not started or are being implemented at a far slower pace than expected", highlighted Deralla, author of the column that drew much attention in the public.
CIVIL is not disclosing details of the case, nor information from the communication with the institutions or from other activities, in order to protect the security of the source, but does announce that in the following weeks it will start with even more intensive disclosure of cases in which individuals or groups are targets of hate speech and violence motivated on various grounds – ethnic, religious, gender and sexual orientation. Furthermore, CIVIL calls on all citizens to contact CIVIL should they face such problems.
"This has to stop immediately! The police, mayors, all departments in the Government are called on to stop the chain of hate and violence. We call on the citizens to solidify with everyone who is a target of hate and violence, and to report every event of this kind to us", urges CIVIL.
As in the past, CIVIL will continue also in the future to categorically demand from the institutions to take serious and decisive measures to eradicate discrimination, but also the incompetence from among their ranks and to decisively sanction all forms of hate speech and violence against individuals and groups.